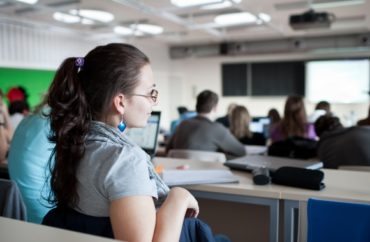 An elementary school teacher in Michigan who enrolled at Calvin University this semester to obtain her Master of Education said she was troubled by her first class, which she described as "woke," and subsequently decided to unenroll.
The teacher, who asked to remain anonymous for fear of retaliation, told The College Fix she enrolled in her quest to eventually become a principal and felt choosing the private, Michigan-based Christian university was a safe bet.
She said she decided she didn't like the curriculum and where it seemed to be headed based on her first course: "I was uncomfortable with the 'agenda' that was being pushed."
The grad school course is called "Pathways to Inclusion: Re-Examining Beliefs about Learners."
The syllabus states that "through this course, participants are invited to embark on pathways to inclusion by examining the needs of learners with differences in school contexts and re-examining commonly held beliefs and practices about identity and difference."
Taught by Professor Sarah Sunukjian, she told her grad students in an email that "as we will explore in this course, so many of the ways we think about and 'do' school are arguably rooted in ableist concepts."
Sunukjian added that her work at the The Bushwick School for Social Justice—a community public high school in Brooklyn, New York—led her to work closely with students and families to "confront systems of prejudice and discrimination as articulated by the community."
A copy of both the email and syllabus were provided to The Fix. Sunukjian did not respond to a request for comment.
The elementary school teacher who dropped the course told The Fix that "I was expecting to be in a course that discusses how to foster research-based and backed teaching practice to a larger community of learners as well as giving each child what they need to learn."
"So when I read the ableism aspect, I just felt that it was pushing the victim mentality rather than learning how to change the ways of the public education system to better suit the needs of kids and the people we want them to become."
Clarence Joldersma, former director of the Graduate Studies in Education Program at Calvin University, said one student's assessment is not necessarily the entire picture.
"If you want to get a good feel of this course, you actually take the course, rather than rely on second-hand accounts of it, especially based on perhaps a single student's feeling about the course," he told The Fix via email.
He declined to comment regarding the notion that the grad school program is left-leaning, calling the questions "leading."
The College Fix asked a current sophomore at Calvin their thoughts on the direction the school is going in terms of left-leaning ideology. The student, who asked to remain anonymous, said Calvin requires every freshman to take a "Core 100" course that delves into critical race theory.
It's online description states the class includes "an exploration of Reformed Christian commitments to justice, intercultural learning, and sustainability and a compelling invitation to a Christian liberal arts education which equips students for vocation and citizenship."
The student said that while critical race theory is definitely being taught, Calvin faculty seem "very well rounded in their views on the political sector."
MORE: Woke professors' DEI study withdrawn for inaccuracies
IMAGE: Light poet / Shutterstock
Like The College Fix on Facebook / Follow us on Twitter