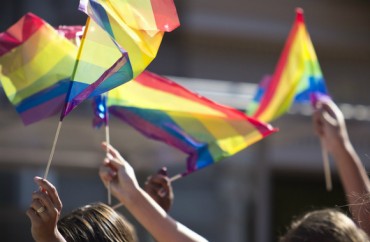 1950s satire performance features five gay women characters, 'dizzying comedic absurdism'
A recent student production at Brown University explored the "nuances of lesbian identity" through the lens of midcentury Americana satire, "demonstrating and celebrating the many dimensions of the lesbian identity."
"Five Lesbians Eating a Quiche," directed by Brown student Kayla Kirk and performed at Brown's Production Workshop Downspace, featured "jam-packed joke density" and "gleaming intensity" from the actresses, according to a review in The Brown Daily Herald. 
The performance, taking place against the backdrop of a "domestic wonderland," the central focus of the story is a brunch that is "clearly no ordinary brunch."
"Enjoying each other's presence," writes reviewer Annabelle Woodward, "flirting with double entendres and certainly never eating meat, the actors' commitment to seeming genuinely in lust with the breakfast dish was impressive and entertaining."
Theater attendees were given name tags before the performance  "to signify that they, too, were members of the Sisterhood." Audience members in front rows were regularly addressed by the cast during the performance: "[O]ne lucky audience member, whose nametag read 'Marjorie,' had the privilege of being spotlighted and shamed at regular intervals — the story goes that Marjorie dared to bring a sausage quiche to last year's meeting and had been promptly ousted from the Sisterhood's inner sanctum."
From the review:
At moments when audience members assumed something shrewd was about to be said about domesticity and sexuality in 1950s United States, the absurdity intensified. Alarms sounded, signaling a Soviet nuclear attack, and the apocalypse was suddenly upon the sisters. Hysteria, madness and more shrill cries ensued. The ludicrous cacophony was successful  due to its flawless execution and sheer situational improbability. Ninety-something closeted lesbians were stuck in a recently refurbished community center basement with exactly enough rations to get them through the nuclear fallout…

[T]he performance also had powerful but fleeting moments of gravitas, including a hope that the legalization of gay marriage will come to fruition as "soon" as the 1960s, which the audience knows to be painfully untrue.

Audience members emerged from the PW slightly exhausted and a little sweaty from all the muscle clenching that reflexively occurred every time the ladies denied their expectations. Though weary, the play's reception was primarily positive.  The jam-packed joke density — imagine laughing as much as you laughed in "Bridesmaids" — and all five actors' gleaming enthusiasm managed to redeem the performance for its less stellar aspects. The play was written by two men, which is a tad ironic considering the play's focus on the female experience in the 1950s. Still, it's refreshing in its own way, demonstrating and celebrating the many dimensions of the lesbian identity without leaning on referential cynicism that so frequently underwrites contemporary comedies. 
According to the Production Workshop website, in recent years the theater group "has focused on attempting to dismantle many of the oppressive structures coded into this institution that make it feel exclusionary or inaccessible."
MORE: Liberal arts college stages vagina-optional 'Vagina Monologues'
MORE: University of Utah drafts 'color-conscious' casting policy for its theater department
IMAGE: Flickr
Like The College Fix on Facebook / Follow us on Twitter