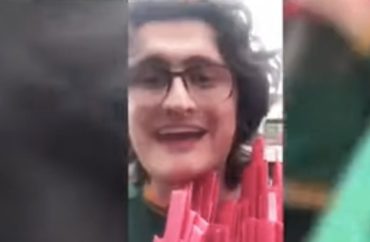 UPDATED
Pro-life arguments are like 'flat-Earth arguments'
The Students for Life chapter at Whatcom Community College in Washington got permission to install a small field of pink crosses to mark the preborn lives taken by Planned Parenthood.
A smirking vandal didn't appreciate their presence, and proceeded to calmly remove as many crosses as he could carry while being repeatedly informed he was violating the law. The pro-life students, amazingly, didn't press charges.
In video posted by Students for Life of America, and explained further in an SFLA press release Wednesday, the aloof student ignores warnings from club member Autumn Lindsey and SFLA Washington Regional Coordinator Katie Lodjic.
They told him over and over that he was stealing their private property and that the administration had authorized the display until 2:30 p.m., about half an hour from then. "We have permission to be here," one of them says. "You're like a broken record, aren't you?" he responds.
"You can't take those away," a female continues. "I disagree," he says curtly, and responds incredulously when told his behavior is "illegal." The vandal continues as the pro-life activists ask a passer-by for a campus police phone number. (The incident happened May 21.)
"Why are you doing this?" an off-camera male asks. "Because I disagree with the message," the vandal responds. Even as he insists he doesn't want to talk to the pro-life students, as they keep offering, he keeps talking:
[Male pro-life voice] So it's better to violently act out, rather than to talk about something?

[Vandal] Yeah, because pro-life arguments have about as much merit as, like, flat-Earth arguments.

[Female pro-life voice] Aren't you for free speech, though?

[Vandal] Uggh.
He tells the pro-life students he'll "probably" throw away the crosses after he runs out of room to carry them. The vandal seemingly goads them to use force to stop him:
[Female pro-life voice] You can't do that, it's private property.

[Vandal, sarcastically] I can't do that? Then what's stopping me right now? How am I still doing this? This is incredible. I didn't even think I could carry this many.
MORE: Professor gets sued for telling class to erase pro-life chalking
Even as a person stands in front of him to prevent him from taking out any more crosses, the smirking vandal continues: "Dude, I've got reach. I'm like Kareem, you're not blocking me."
He drops his aloof tone when the person again asks him for a conversation. "Absolutely not! Because I fundamentally [dis]agree with what all of your guys' arguments are based off of, so there's really no point. … Are you guys not listening to me? I am not happy to talk to you guys."
After he gets tired of the repeated invitations to converse, the vandal smiles at the camera and walks toward Heiner Hall. As he's entering, a person who appears to be an administrator tells the vandal he has to return the crosses, and the vandal agrees to take them back.
"Thank you," the apparent administrator say. "You don't have to agree with them, but you do have to give them the same access everybody else has."
Matt Lamb, communications director for SFLA, told The College Fix in an email that he didn't know the vandal's name but would look for it: "[S]ince he returned the crosses, [the students] didn't press charges or report him."
Pressed on why the students wouldn't press charges for a vandal caught in the act, Lamb noted the vandal was not an authority figure such as a professor. Lamb didn't acknowledge two Fix requests to share the college's response to the incident. (Lamb is a former student contributor to The Fix.)
A professor at a public university was forced to pay $17,000 and undergo First Amendment training to settle a lawsuit after he directed his class to erase pro-life chalking by Students for Life club members.
A spokesperson for the college told The Fix Friday that it was "aware of the situation" but would not otherwise comment because of "the on-going investigation," which is now a month old. She did not even answer whether vandalizing an authorized display is a violation of any campus code.
The Safety & Security office has not responded to a request to provide any documentation it has of the incident.
UPDATE: A spokesperson for the college responded to a query after this post was published. The response has been added.
MORE: Professor pays $17k to settle suit over erased pro-life chalking
IMAGE: studentsforlife/YouTube
Like The College Fix on Facebook / Follow us on Twitter