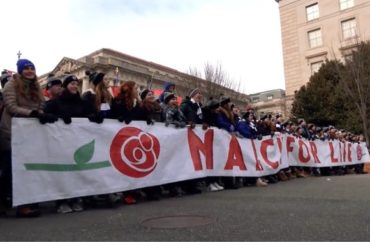 'There is nothing like the March for Life that can move us from apathy and empower us to radically live the pro-life message,' student leader says
WASHINGTON, D.C. — The 50th annual March for Life today is a special moment for pro-life activists – it is the first one since the reversal of Roe v. Wade. The Dobbs v. Jackson decision in June 2022 returned the issue of abortion to the states.
None of the college students marching today were alive for the original Roe decision in 1973 – but they know that today is a celebration even though hard work lies ahead to abolish abortion.
Rachel Schroder, the social media coordinator for Hillsdale College Students for Life, called this year's march "unique."
"Before we were protesting the terrible Roe v. Wade decision that had legalized the killing of preborn children in every state," Schroder told The College Fix.
Schroder said now the March for Life is a celebration of victory. "We also [marching] to proclaim our message that we will never forget the atrocity of human abortion in America."
So proud of @LibertyU students Over 500 students and 11 buses rolling out this morning at 5am to @March_for_Life in Washington, DC. #marchforlife2023 pic.twitter.com/zLsCu2q6lN

— Ryan Helfenbein (@RHelfenbein) January 20, 2023
Schroder said Hillsdale College sent approximately 140 students to the March for Life this year.
Joe Hogan, president of Benedictine Ravens Respect Life, said the march is a way to motivate college students to stay involved throughout the year.
"Students need to see other students who are totally, passionately, and intelligently pro life," Hogan said. "There is nothing like the March for Life that can move us from apathy and empower us to radically live the pro-life message."
Benedictine College, a Catholic university in Kansas, sent over 200 students to the march this year, according to Hogan.
Hogan said the March for Life also sends a message to the public. "It redirects the narrative we often see on the news, and it holds our politicians accountable, reminding our leaders that we refuse to compromise on the lives of the preborn."
A veteran of the March for Life and a professor at Hillsdale told The Fix that "[i]t is important for students to be involved in our society's political and social debates, and to participate in democratic processes responsibly by learning about the issues and advocating for positions."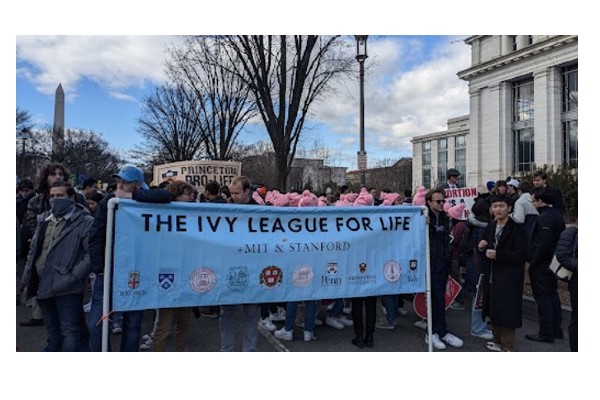 "The students who organize and participate feel very strongly that human life has dignity and that this dignity deserves legal protection," Professor Fred Yaniga told The Fix. He said he has traveled with the Hillsdale pro-life group 10 times to the march.
"Marching in support of pro-life causes gives students the opportunity to express themselves publicly and peacefully alongside others who feel similarly," the group's faculty advisor said.
Yaniga said that while it "can feel like pro-life voices are outnumbered in our society," pro-life events like the march "prove that there are a great many, and very many young people, who feel strongly that human life deserves protection from conception until natural death."
Watch the FULL timelapse of the '22 #MarchforLife! We estimate ~150,000 people. The cold couldn't dampen the spirits of the Pro-Life Generation who knew we were celebrating the last anniversary of Roe v. Wade. The largest human rights march in the world IS against abortion. pic.twitter.com/ovVfXCxZpK

— Students for Life of America (@StudentsforLife) January 21, 2022
In 2022, Students for Life America estimated a total of 150,000 people attended the March for Life.
The group told The College Fix that its campus affiliates will continue to work to create a life-affirming culture.
"On campus, our groups seek to shield vulnerable women from the predatory abortion industry by offering resources like childcare, scholarships, tangible items (like diapers and baby formula)," Caroline Wharton, a spokesperson, told The Fix via email. "Off campus, many of our students also work with Students for Life Action (SFLAction) to lobby for pro-life legislation in order to enact life-affirming policy."
She said that Saturday will offer activists more opportunities to learn and prepare to abolish abortion.
"The 2023 National Pro-Life Summit, students will have the opportunity to take much back to their campuses," Wharton said. This includes "an understanding of why and how we need to be working against Chemical Abortion Pills; how to protect your pro-life group from discrimination, advanced apologetics, etc."
Editor's note: The author attended the March for Life with her classmates and plans to attend the National Pro-Life Summit.
MORE: Chicago socialist students demand free abortions on campus
IMAGES: March for Life/Twitter; Charlotte Waldron/The College Fix
Like The College Fix on Facebook / Follow us on Twitter