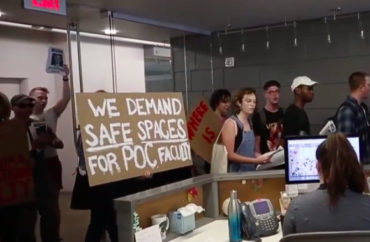 School's president will be meeting with students
Students at Virginia Commonwealth University are continuing to protest the expected return of a professor embroiled in controversy there, slamming the instructor for his role in a racial controversy even though the school itself ruled that he had not engaged in racist behavior. Top school officials, meanwhile, will be meeting with the students next week.
Javier Tapia, a professor in the school's painting and printmaking department, was placed on administrative leave by the school following a controversy on campus last semester when he called campus security on a black professor. VCU ultimately concluded after an investigation that Tapia had not behaved in a racist or discriminatory manner when he had called the security, but the school nevertheless placed him on leave, also forbidding him from talking to students, faculty or staff.
Students have continued to protest Tapia's presence on campus. Last month around 40 students staged a sit-in in the school's provost's office, asking administrative officials "how they could prevent Tapia from returning to campus and whether it was possible to remove his tenure status."
The protests continued this week, when students staged another sit-in at the university's School of the Arts. The Richmond Times-Dispatch posted photos of the demonstration, as well as a brief video of the protest. The video shows students repeating the slogan "No racist faculty" while waving signs and fliers. The video also depicts a spokeswoman for the school of the arts, Suzanne Silitch, attempting to phone the school's dean, Shawn Brixey.
Reached for comment, Silitch said that the school's administration plans to meet with the students in several days.
"Dean Brixey believes strongly in upholding our community values of inclusion at the School of the Arts. While he was not available to meet with the students on May 1, 2019, we have scheduled a meeting for Thursday, May 9 with these students, the dean, President Rao, the Provost and other university officials," Silitch said.
MORE: He called security on a black professor. Now his school won't let him talk to students.
IMAGE: Alexa Welch Edlund / Richmond Times-Dispatch
Like The College Fix on Facebook / Follow us on Twitter