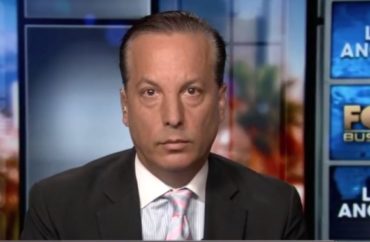 Former and current UCLA students are speaking out against UCLA's recent decision to boot a longtime lecturer who was popular with students, a conservative, and an outspoken free speech and due process advocate — a combination that apparently did not sit well with his campus superiors.
In interviews with The College Fix, the students said UCLA's decision to oust Keith Fink (pictured) was disheartening, infuriating and baseless — and ran afoul of academic freedom and intellectual diversity.
Recent UCLA graduate Taryn Jacobson was one of the students caught in the crosshairs when the communications department blocked students from enrolling in Fink's "Communication Studies 167: Sex, Politics, and Race: Free Speech on Campus" course earlier this year. She said the termination of Fink is a "tremendous loss."
"There was no reason for him not to pass that excellence review, as most everyone in his classes give him raving reviews. It is so transparent and it's a shame that liberal bias has come this far, especially on a college campus where freedom of communication is supposed to be encouraged," Jacobson said in an email to The College Fix.
There's no denying Fink was a popular figure on UCLA's campus. As his "Free Speech on Campus" course wrapped up after an hours-long class on a February evening, a number of students didn't immediately bolt for the door. Instead, they gathered around the professor's podium waiting for a chance to speak with him.
Moments like that, witnessed during a College Fix visit to his class, won't happen anymore, as UCLA terminated Fink, an attorney and UCLA grad, at the end of June. A beloved communications lecturer not afraid to bash UCLA for denying students' free speech rights, Fink alleges his department pushed him the out the door because of his conservative politics.
For his former students, Fink's termination is a travesty that makes little sense given his positive student reviews and popular courses — classes so popular there were huge waiting lists to get in.
"It is a huge loss to the school and to future students who are deprived of the opportunity to learn under such a great professor," said Eric Kim, a recent UCLA graduate. "If the school cannot embrace professors or students with different views and allow free speech, then the university is no longer educating students in the right way."
The termination of Fink culminated a months-long saga between him and the UCLA administration that began earlier this year when Fink said his department chair blocked students from taking his free speech course. The tension escalated when Fink alleged his superiors, namely department chair Kerri Johnson and vice chair Greg Bryant, rigged a review process he likened to a "star chamber."
A review panel deadlocked on him passing his evaluation and left the final decision up to Dean of Social Sciences Laura Gomez, who said in a brief letter to Fink that he wouldn't be appointed as a continuing lecturer and that the review found his "teaching does not meet the standard of excellence."
As Fink battled with his department and the UCLA administration, students rallied to his side by writing glowing reviews of his teaching, publicly protesting the university's treatment toward him, and speaking up in his defense.
Mick Mathis, a UCLA alumnus who organized a public protest and created an online petition in defense of Fink, said in an email last week the professor's ousting is "extremely disheartening."
"He is one of UCLA's most beloved professors, and now many students will not be blessed with the opportunity to take one of his classes. It is also infuriating that an administration would be able to terminate Professor Fink's job completely baselessly," he said.
Kim, who was enrolled in one of Fink's courses this spring, said the professor's termination was "unfair," especially given Fink was "loved by many, if not all of his students."
Fink's mandatory teaching review indicated Fink was indeed a lecturer who resonated with his students. Documents from his review show that his instructor and course evaluations "modestly" exceeded his department's average figures.
Furthermore, the review found that Fink's teaching sparked students' interest, with students referring to his courses as "engaging" and "stimulating."
For students like Mathis and Kim, Fink was more than just an instructor. He was also a mentor and an ally.
Mathis described Fink as an important voice for free speech and due process and highlighted he would provide free legal advice to students.
"Students who believe in due process and free speech lost an indispensable ally at UCLA last month. There has never been a professor who both fought for the principles of free speech as well as the individual rights of each student," he said.
Fink was also an influential figure for Kim, who said Fink's "passion for the law" solidified his decision to attend law school.
The two students also praised Fink's ability to push students to see both sides of an issue, despite him being an outspoken conservative. Fink taught his classes using the Socratic method, probing students on various issues throughout his courses. The College Fix visit to his class in February indicated Fink wasn't shy about offering his own opinion, but that he recommended students do their own fact checking and research on the issues.
"He did not tell students what to think, but he helped students on how to think," Kim said.
Mathis recalled a discussion in one class that touched on the minimum wage, saying Fink's probing of the subject made many of his peers question their opinions on the issue.
"Professor Fink challenges students to think in a unique way that forces them to challenge their own beliefs and form their own opinions on various subjects," he said.
MORE: Prof suspended after joke allegedly created 'hostile learning environment'
Like The College Fix on Facebook / Follow us on Twitter
IMAGE: YouTube Screenshot
Like The College Fix on Facebook / Follow us on Twitter