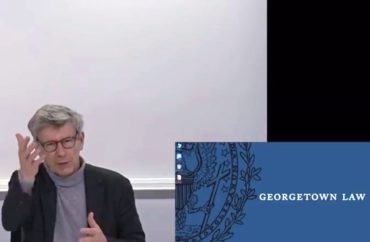 The professor, a non-native English speaker, said he didn't know that 'Chinaman' was an offensive term
A Georgetown Law professor's apparently unwitting use of a racial slur prompted students to call for the university to take "swift and decisive action," The Washington Post reported February 17.
Dozens of university groups, more than 500 students, and alumni and faculty signed the letter, inspired by an incident in which Professor Franz Werro addressed an Asian student as "Mr. Chinaman."
In a clip shared on Twitter, Werro called on the student with "what sounds like, 'What about you, Mr. … Chinaman,' and then asked to be reminded of his name," The Post wrote.
Pro. Werro(https://t.co/GdLZbMTKXH) of @GeorgetownLaw #GeorgetownLaw has a very racist way of conducting his law school "cold call." #LawSchool #Lawyers #Racists #StopAsianHate #education #WashingtonDC pic.twitter.com/EKM7oUdHVg

— SensenSz (@choose_ur_term) February 11, 2022
Georgetown Law Dean William Treanor acknowledged the use of the offensive term, and Werro apologized.
"As a non-native English speaker myself, I did not appreciate that it was a derogatory term, as I now understand it is. I am very sorry I used it," Werro wrote in a note to his class obtained by The Post.
"The statement I made was just after the break in the class, during which I had enthusiastically noted the great diversity of languages spoken by members of the class," he stated.
Signatories to the letter called for a stronger response. "If Georgetown Law takes swift and decisive actions to correct the harms, it will demonstrate a clear commitment to diversity and inclusion," they wrote. They requested mandatory faculty implicit bias training, "improvements" in a system for reporting bias incidents, and public acknowledgment of the slur.
In an email, Dean Treanor expressed regret for the incident and declared his intention to engage Professor Werro in "serious dialogue."
"We must take a serious look at our culture, structure, systems, and processes to ensure that we are a community that fosters respect, equity, and justice," Treanor said.
This is the second time this month that Georgetown Law has come under scrutiny for an allegedly racist incident involving staff. Earlier this year, Ilya Shapiro, a legal scholar scheduled to direct the Georgetown Center for the Constitution, was placed on leave after a series of since-deleted tweets critical of President Biden's commitment to consider only black female candidates to replace retiring Justice Stephen Breyer.
Read the full story here.
MORE: Staff, students a Cornell demand 'institutional change' to combat anti-Asian racism
IMAGE: Georgetown Law
Like The College Fix on Facebook / Follow us on Twitter