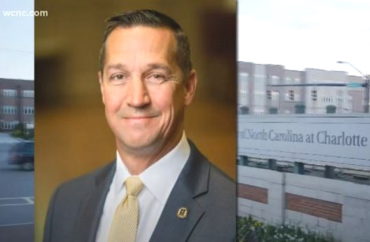 Meanwhile, other students reject #FireJohnBogdan campaign
Chalking and posters declaring "#FireJohnBogdan." Poems by Guantanamo Bay detainees touted and spread on social media. Demands that all future administrative hires be vetted by students and faculty.
These are just some of the actions underway at the University of North Carolina Charlotte against retired U.S. Army Colonel John Bogdan, a decorated vet with a 34-year career in the Army who once served as brigade commander at Naval Station Guantanamo Bay and is now security chief for UNC Charlotte.
An organization called the Coalition to Remove John Bogdan was former earlier this fall semester and its members are waging a campaign to get the associate vice chancellor for safety and security at UNC Charlotte fired. They call him an alleged war criminal and claim he oversaw multiple human rights violations when commander at Guantanamo Bay, Cuba.
We do not feel safe with an accused human rights violator on our campus! We do not feel safe with the warden of Guantanamo on our campus! We are concerned, we are scared, we do not feel safe! #FireJohnBogdan pic.twitter.com/pH2KOZXUeG

— Coalition to Remove John Bogdan (@RemoveBogdan) November 8, 2019
"On behalf of the UNC Charlotte community, this coalition calls for the immediate termination or resignation of John Bogdan from his employment within the UNC School System. We do not feel safe," states a tweet pinned to the top of its profile.
A statement shared across social media and across campus by the coalition states: "It is evident that John Bogdan and, by extension of his hire, the University and the Board of Governors have a blatant disregard for Human Rights and People of Color on our Campus."
Prior to his post at UNCC, Bogdan served as the chief of police and chief of operations for Forces Command, headquartered at Fort Bragg, North Carolina.
Bogdan, for his part, said he is focused on campus safety amid the uproar.
"UNC Charlotte is already an incredibly safe place. The team responsible for safety and security is dedicated to ensuring it remains as such. My goal is to continue to build and improve the team," he told The College Fix in an email Thursday.
He said his short-term security enhancement plans include safety videos, lockdown kits and improved community policing.
"While I haven't been a member of Niner Nation very long, I have quickly developed a love and appreciation for this community," said Bogdan, who took the job in January 2019. "It is my honor to serve it in this way."
Meanwhile, there are students on campus who fully support Bogdan.
"I think hiring him was a fine idea. He used to run one of the most dangerous prisons filled with terrorists. This makes him perfectly qualified to be head of security. He's a hero," UNC Charlotte student Liam McElhaney told The College Fix.
Another UNC Charlotte student, Camden Winstead, told The Fix: "He's knowledgeable and suited to handle every emergency situation … ."
At issue is his tenure at Gitmo. WCNC reports that "Col. Bogdan's command of Gitmo received criticism in 2013 after he enacted significant security changes in an effort to improve safety" but an appeals court sided with Bogdan's decisions.
WCNC also reported: "There was also an independent report the same year by the Seton Hall University School of Law Center for Policy and Research, which identified listening devices disguised as smoke detectors that could pick up whispers in attorney-client meeting rooms. In a court filing, the government admitted the technology existed, but said it was never used for that purpose. Still, leaders eventually made changes to alleviate concerns, according to court records."
Bogdan gave WCNC his personnel record, and the news station found that "his file includes roughly 30 years of awards and glowing references and nothing but compliments in 2013 about his ability to 'flawlessly' restore order to the detainee camp. His superiors called him a model of 'military professionalism and excellence,' 'magnificent officer' and 'truly exceptional Army leader' with no international humanitarian law complaints."
In his statement to The College Fix, Bogdan said "I come from a long military tradition — every generation in my family has served this nation — and it continues with my son and nephews."
"I was raised by amazing parents who believed in helping others and service to the nation. I found my way into the Army and enlisted when I was 18 years old. I was in for only a short time when I realized that this was calling, my purpose in life. It was my distinct honor to be a member of such an awe-inspiring organization and to answer our nation's call."
In a statement to WCNC, university brass said Bogdan underwent a thorough vetting process prior to his hire.
MORE: UNC's 'Literature of 9/11' course sympathizes with terrorists
IMAGE: WCNC screenshot
Like The College Fix on Facebook / Follow us on Twitter