Demonstrators call first president 'an enslaver of men' 
The Black Student Union at the University of Washington wants the statue of President George Washington removed from campus.
The student activists recently rallied against the statue of the nation's first president, and the namesake of both the state and university where they reside. The rally also called for police abolition.
The group announced:
ABOLITION MAY RALLY HAPPENING THIS FRIDAY ON MAY 20 11:30 AM @ THE GEORGE WASHINGTON STATUE!! HELP FIGHT FOR BSU DEMANDS AND HEAR FROM OTHER ORGANIZATIONS AS WELL FIGHTING FOR OUR DEMANDS TO BE MET!!! WE WILL ALSO BE HAVING A PREP AND PAINT TO PREPARE FOR THE EVENT!! SHOW UP FOR BSU!!!
The rally included the typical list of Black Lives Matter and leftist chants. "Hey hey, ho, ho, these racist cops have got to go" and "the people united, will never be divided" filled the air on May 20 as a small group of students marched through campus.
BSU first demanded the removal of Washington's statue in 2020.
Students frequently graffiti the statue of George Washington, according to the campus newspaper.
"There's obviously some meaningful intentions behind some of the graffiti, but for such an inclusive school, our faculty leaders do nothing to support the conversation behind the messages or to raise awareness to why students feel the need to bring attention to certain things," student Morgan Golden told the campus newspaper. "They'd rather just pretend it never happened."
The University of Washington students are not the only ones that are embarrassed to be associated with an institution named for a Founding Father.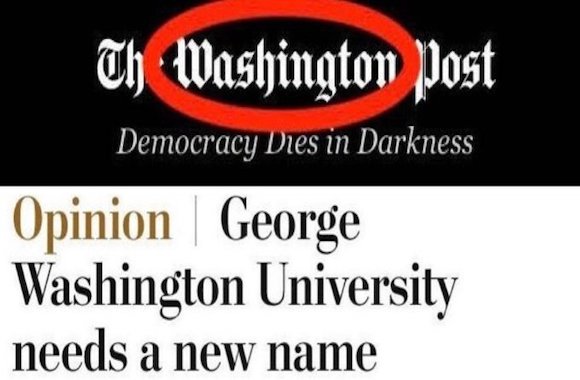 The Washington Post ran an op-ed recently in which a student at George Washington University demanded his school change its name.
"Every day, hundreds of Black students walk on a campus named after an enslaver of men and study at a site named after dark parts of history [Mount Vernon Campus]," Caleb Francois lamented.
"The controversial Winston Churchill Library must go. The university's contentious colonial moniker must go," Francois wrote. "Even the university's name, mascot and motto — 'Hail Thee George Washington'— must be replaced."
The decision to not immediately accede to every left-wing demand is "an example of how Black voices and Black grievances go ignored and highlights the importance of strong Black leadership."
MORE: UW-Madison chancellor won't comment on Lincoln statue fate
IMAGE: King 5
Like The College Fix on Facebook / Follow us on Twitter