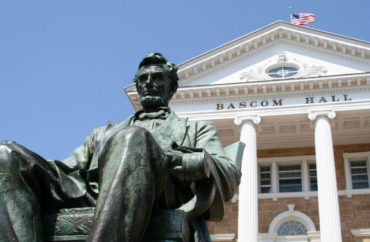 Incoming University of Wisconsin Madison Chancellor Jennifer Mnookin has declined to comment on the fate of the institution's Abraham Lincoln statue, a controversial fixture which has frequently drawn the ire of student activist groups.
Asked "where do you stand on the issue of the Lincoln statue and would you consider its removal from its spot on Bascom Hill," Mnookin sidestepped a direct answer.
"I certainly would need to learn more about the issue before I could say anything substantive," Mnookin said at a press conference Tuesday, which promptly closed for further questions following her answer.
A long-standing fixture at the university, the Lincoln statue has been fraught with controversy since the mid-2010s as student activists have claimed it to be a monument to racism and have repeatedly attempted to have it removed.
"Remove the Abraham Lincoln monument located at the top of Bascom Hill and replace it with someone who stands for the justice of all people," students demanded in 2020.
Currently, the Black Student Union has been granted student fee funds to create a documentary on the statue as part of an "activism campaign."
Asked Wednesday for clarification or additional comment from Mnookin by The College Fix, UW media affairs spokesman said that as outgoing Chancellor Rebecca Blank has said in the past, "UW-Madison has no current or future plans to remove the Lincoln Statue from Bascom Hill."
"I'd add that Chancellor Mnookin's statement during yesterday's press call should not be interpreted as a reconsideration of the issue," spokesman John Lucas said via email.
During Tuesday's press conference, Mnookin did cite a deep respect for the right to free speech, something that may bode well for the statue's future.
"I am a big believer in a 'big tent' approach to ideas in a university. I think that freedom of speech is incredibly important and the need to create spaces for ideas of all different kinds to be part of the dialogue within universities. I think that's part of what universities are for," she said.
Mnookin will succeed current Chancellor Blank, who has long been a proponent of maintaining the statue's presence on campus. In 2020, Blank told students that the statue would remain.
"The university continues to support the Abraham Lincoln statue on our campus. Like those of all presidents, Lincoln's legacy is complex and contains actions which, 150 years later, appear flawed. However, when the totality of his tenure is considered, Lincoln is widely acknowledged as one of our greatest presidents, having issued the Emancipation Proclamation, persuaded Congress to adopt the 13th Amendment ending slavery and preserved the Union during the Civil War," Blank wrote.
"As the leader of UW–Madison, I believe that Abraham Lincoln's legacy should not be erased but examined, that it should be both celebrated and critiqued," she added.
In 2015, a student-led Black Lives Matter protest called for Lincoln's removal. A year later, in 2016, the statue was draped in a black tarp during another protest.
In 2017, UW students called for a plaque to be placed near the Lincoln statue denoting the president's involvement in condemning 350 Native Americans to death.
A petition advanced in 2020 by BIPOC student activists titled "Remove and replace 'The Lincoln Statue' from Bascom Hill" argued those who funded the statue are racist.
The UW-Madison student government also approved a resolution in the fall of 2020 supporting the removal of the statue, arguing it serves as a remnant "of this school's history of white supremacy."
The student government vote came on the heels of a protest in September 2020, during which students marched across campus wearing all black, bringing attention to unmet BIPOC demands for the school.
The top demand: "Remove the Abraham Lincoln monument located at the top of Bascom Hill and replace it with someone who stands for the justice of all people."
The Wisconsin Black Student Union did not respond to a request for comment this week from The College Fix.
MORE: UW-Madison sees no improvement in campus climate despite millions invested in DEI
IMAGE: Eric Johnson / Flickr
Like The College Fix on Facebook / Follow us on Twitter