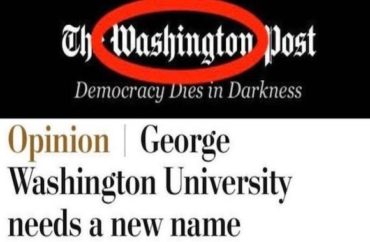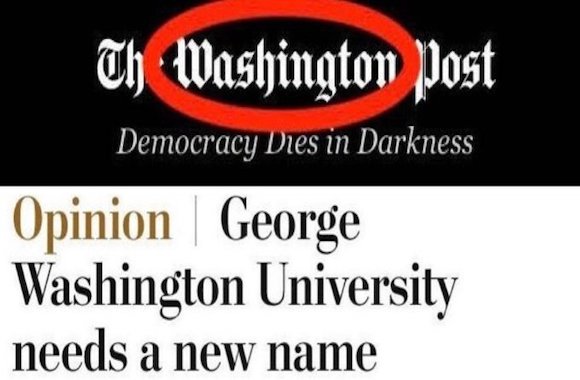 A major newspaper named after our capital city, which is named after our first president, has printed an op-ed calling for a city university which also is named after our first president … to be renamed.
George Washington University senior Caleb Francois, a pre-law student, begins his piece by noting the 2021 renaming of a campus student center "falls short" of addressing "systemic racism and inequality" which still exist on campus.
Francois then details the 200-year-old history of racism at GWU, including the (shocking!) fact that, at the university's founding in 1821, only white men were permitted to enroll. Vestiges of that overt racism remain via low black enrollment (10 percent, compared to 13 percent nationally), lack of black professors and zero African language course options, according to Francois.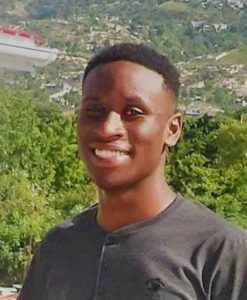 "These problems are rooted in systemic racism, institutional inequality and white supremacy," Francois (pictured) says. In addition to increasing GWU's black enrollment, Francois claims racial maladies can be remedied by a "decolonized university curriculum […] the renaming of the university and the selection of an African American President."
MORE: Five months later and GWU still has not reaffixed beheaded George Washington monument
Francois continues: "Every day, hundreds of Black students walk on a campus named after an enslaver of men and study at a site named after dark parts of history [Mount Vernon Campus]." Other racists such as James Madison and Winston Churchill also should not be honored.
The controversial Winston Churchill Library must go. The university's contentious colonial moniker must go. Even the university's name, mascot and motto — "Hail Thee George Washington"— must be replaced. The hypocrisy of GW in not addressing these issues is an example of how Black voices and Black grievances go ignored and highlights the importance of strong Black leadership.

Frederick Douglass, a statesmen, political scientist, diplomat, feminist and abolitionist, is a perfect example of a possible namesake to replace George Washington. His work for social reform and equal justice make him an ideal candidate for a new name. Douglass, Sojourner Truth and Malcom X, among many others, transformed the United States by fighting for the liberation of Black people here and all over the world. Heroes such as these should be celebrated and represented here at GW.
But … wasn't Malcolm X at one point in his life involved in "drug dealing, gambling and pimping"?
Not to mention, when President Trump claimed progressives would not stop at demanding the removal of Confederate statues and memorials, didn't the Washington Post call him out?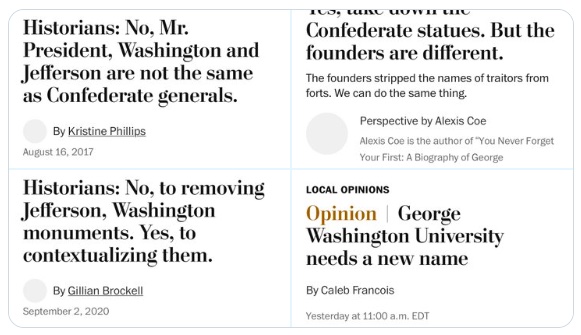 MORE: George Washington University quietly purging its 'colonial' brand from campus
IMAGES: Lisa Louisiana, The End Times/Twitter screencaps; Caleb Francois/Facebook screencap
Like The College Fix on Facebook / Follow us on Twitter