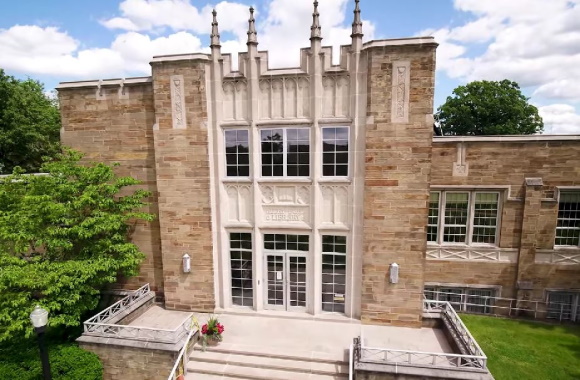 Facing accusations of critical race theory on campus, several members of Grove City College's community argue the complaints lack context and clarity and fall short of the image critics seek to paint of the Christian and historically conservative college.
Grove City College in western Pennsylvania came under fire after a November 2021 petition raised allegations about the spread of critical race theory on campus.
The petitioners reference a 2020 chapel lecture from guest speaker Jemar Tisby on Christian racial reconciliation. They also cite an education elective using pro-CRT textbooks. They also assert that allegedly pro-CRT statements from some college employees are "threatening the academic and spiritual foundations" of the college.
The petition garnered 480 signatures, with one parent explaining that progressive and anti-Christian agendas "have crept into an alarming number of historically Christian institutions … I'm signing to express my support of the Christian values GCC was founded on."
Among their demands, petitioners call for the college to officially reject critical race theory, respond to statements from college employees, and restructure and rename its advisory council on diversity.
In response, Grove City President Paul McNulty issued a statement that critical race theory "has no intellectual home at Grove City College."
Meanwhile, the claim that critical race theory has seeped into the college has been debated in commentary from a variety of sources.
Several specific charges, including content of some chapel addresses on campus, have not yet been publicly confirmed or denied by the institution beyond McNulty's assertion that the college's chapel program has never promoted CRT, a statement heavily disputed by petition advocates.
Some Grove City students support the petition, with sophomore Etienne Pienaar telling The College Fix he signed it "because I was disturbed by the events enumerated in it, many of which I personally witnessed. I was concerned that the current issues … if left unaddressed, would grow over time."
"GCC has not gone woke, but it is starting down that slope in my opinion."
Other criticism of the college revolved around alleged statements on white privilege and racial identity from Grove City's director of multicultural initiatives.
McNulty told The College Fix that resident assistants were shown "a 15-minute video on the topic of 'positive racial identity.' [The director's] intention was to help RAs talk to concerned students about racial issues. Not surprisingly, these thoughtful RAs had questions about the video."
Petitioners also raised concerns over the lack of anti-CRT books in an education elective titled "Cultural Diversity and Advocacy." Professor Cedric Lewis, who co-taught the class, told The College Fix that these texts are picked to allow students to confront difficult ideas in an "open discussion" classroom.
"We do read a number of books that many would consider left leaning," Lewis said. "They're presented as an alternative to what many students have been exposed to their whole lives. We read them and discuss what we agree and disagree with. We don't endorse any of the works."
While petitioners maintain many of their original concerns, some members of Grove's campus community are not entirely sold on the validity of the charges against their college.
Provost Peter Frank pointed out to The College Fix that faculty "will bring ideas and topics to the classroom for discussion that are controversial and contrary to what many may believe."
However, he remains firm on the college's rejection of critical race theory as a definitive philosophy of racial differences: "We as Christians should first root any response to this issue in the example of Christ and not in any framework such as CRT."
Grove City's faculty also seem committed to this "discussion, not dogma" approach.
Computer science Professor Brian Dellinger stressed to The College Fix the importance of students understanding CRT's fatal flaws: "We in the church, and in Christian institutions, should discuss these ideas … in their totalizing mode, these ideas must be rejected. Indeed, in one of my spring classes this year, I argued exactly that point."
Professor Michael Coulter, chair of the college's political science department, argued: "If you want to evaluate [Grove City] with integrity, one should look at the vast majority of what happens at Grove. If you do that honestly, there's no reasonable manner that you'd call [Grove City] 'woke' or even drifting that way."
Coulter, who has taught at the college for 27 years, told The College Fix that the petition's critique of the 2020 Jemar Tisby chapel lecture "shows little awareness of context or the facts." While critiquing Tisby, the petition makes no mention of the campus discussion panel hosted in response to the event and a faculty-written critique in the college newspaper.
Additionally, Vice President for Student Recruitment Lee Wishing noted that Joshua Abbotoy of the American Reformer never reached out to the college to confirm or deny the allegations made before publishing his critique. Abbotoy did not respond to a request for comment.
Other students flatly disagree with the petition.
Political science major Jonathan McGee voiced his disagreement: "I don't think the petitioners realize how much the administration at [Grove City] does to support conservative values."
McGee, who also attended Tisby's evening chapel lecture, asserted that the demands in the petition indicate petitioners may have failed "to consider the consequences of such actions."
Still others see the petitioners' worry but maintain problems with the proposed ideas. Communications major Malachi Abbott noted the importance of a Biblical understanding of racial issues.
"Often a more conservative Christian student body tends to make the mistake of believing the poisons of racism or racial insensitivity is of no concern at their institution," Abbott told The College Fix.
However, Abbott still believes the petition to be problematic, despite what he views as the authors' understandable worry. "I do see the concerns, and I do see the concerned groups' love for GCC peaking through. That being said, I still think this is overblown and should not deter potential students," he said.
As Grove City begins its spring semester, Provost Frank remains convinced that this controversy is not as bleak as has been alleged: "I do not think that any stakeholder at Grove City College should be worried about any ideology taking a foothold that is inconsistent with Biblical truth. … Grove City is the ideal environment where students should discuss and debate contested ideologies currently voiced in the public sphere."
Editor's note: Jonathan McGee writes for The College Fix.
MORE: New college entrance exam disavows Common Core, targets classical education
IMAGE: YouTube screenshot
Like The College Fix on Facebook / Follow us on Twitter