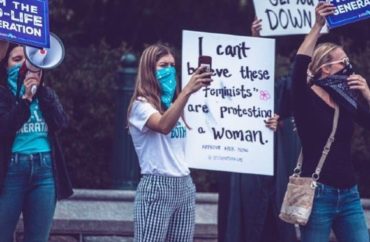 Punched her when she explained why she was pro-life
A protester outside of the Supreme Court allegedly punched a Students for Life Action staffer on September 27 at competing rallies in support and against the nomination of Judge Amy Coney Barrett to the Supreme Court.
The staff member, Autumn Schimmer, works as a communications manager for Students for Life Action, the political advocacy arm of the pro-life nonprofit.
"I was approached by a pro-choice woman who wanted to have a conversation about what feminism means to me," Schimmer said in a news release for Students for Life.
"I told her that women are not empowered when they kill their own children, and we need to do better,"  Schimmer said.
She continued:
After that, she was getting more aggressive. I took a step back to return to my group. She approached me and punched me in the face and ripped off my face mask. This is very upsetting. Being attacked by a pro-choicer just shows that the violence of abortion breeds a culture of violence and normalizes it.
Schimmer was holding a sign prior to her assault that read, "I can't believe these 'feminists' are protesting a woman," in reference to those who opposed the nomination of Barrett.
Police arrested Schimmer's alleged attacker, according to Students for Life spokesperson Kristi Hamrick in an email to The College Fix. Students for Life has not pursued additional legal action.
The pro-life group provided a link to a video but the video does not show the actual assault. It purports to show the alleged assailant walking away from the pro-lifers.
This weekend, we were met with hate and violence by pro-choice extremists at the Supreme Court. A team member of @SFLaction was even assaulted in the face.

When we have violence in the womb, we can expect to see violence in our streets.

This is why we #VoteProLifeFirst! pic.twitter.com/H9iiIW0p8w

— studentsforlife (@StudentsforLife) September 28, 2020
Hamrick said police arrested the assailant but did not say which police department arrested the alleged attacker.
"A complaint was not filed with the U.S. Supreme Court police and no one spoke to the Supreme Court police about the incident," Kathleen Arberg, a public information officer for the Supreme Court told The Fix via email. She suggested contacting the Capitol police.
An officer in the video provided by Students for Life appears to have a Capitol Police patch on his uniform, but Capitol Police said they did not arrest anyone.
"Our Department made no arrests on September 27," Eva Malecki, a spokesperson for the police department, told The Fix via email. She did not respond to a follow-up question on if the police detained the alleged assailant without charges.
A spokesperson for the D.C. police told The Fix via email that there was "no report in our system in reference to this incident," and redirected The Fix to Supreme Court police for questions about the possibility the assailant was detained but not charged.
Students for Life pledged not to let the incident deter their activism.
"Students for Life Action and Students for Life of America is not going to be intimidated by abortion supporters who have been bringing the violence of abortion into public events," Hamrick told The Fix.
"You will find us outside the Supreme Court throughout this nomination process, despite the efforts of abortion activists to silence those they do not agree with — including Judge Amy Coney Barrett."
Kristan Hawkins, the president of Students for Life of America, said she believes Barrett will be a good justice for the pro-life movement.
"This is the opportunity of a lifetime that will determine millions of lifetimes," Hawkins said in September 26 news release.
"It is go time, Pro-Life Generation: Get ready for a Post-Roe America."
The pro-life group has organized its "SCOTUS Squad" to advocate for the confirmation of Barrett. They similarly organized in support of the nomination of Brett Kavanaugh to the Supreme Court in 2018.
Their efforts included holding press conferences and rallies on what they called the "Justice 4 Life" campaign.
MORE: Pro-life students face harassment for activism
IMAGE: Autumn Schimmer/Facebook
Like The College Fix on Facebook / Follow us on Twitter