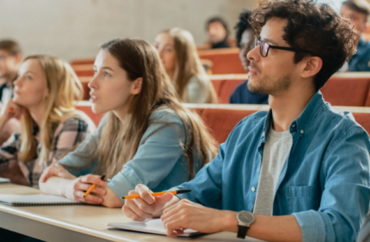 A prominent civil liberties attorney told a group of Ivy League students that to learn, they must face ideas and concepts they disagree with or oppose.
"Your intellectual development, particularly in college, is to be moved outside of your comfort zone to really push you to rethink your assumptions and challenge yourself," said Devon Westhill, president and general counsel for the Center for Equal Opportunity at the Federalist Society.
During his more than one-hour discussion at Cornell University on April 17, he challenged his audience to critically examine what it takes to create a more intellectually diverse society.
The event, titled "Uncomfortable Truths: The Connection Between Speech & Social Progress," was co-sponsored by the Program on Freedom and Free Societies and Voices for Liberty. Both of these organizations fight for free speech on college campuses.
The event was moderated by Barry Strauss, who stated before the event, "One of the greatest weapons against slavery was the oratory of Frederick Douglass, a vigorous champion of free speech, who said that 'the right to utter one's opinions' was 'the dread of tyrants' and 'the right which they first of all strike down.'"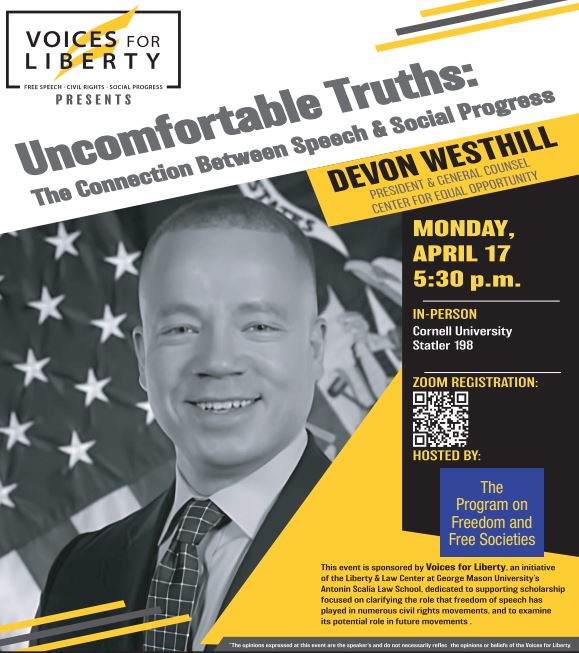 Westhill's works have been published in many well-respected papers, including The Wall Street Journal, and he has testified before both the U.S. House and Senate.
Westhill's talk came following Cornell's recent announcement that next school year will be its "year of free speech." This announcement follows an event last year by Ann Coulter during which student activists disrupted her talk at Cornell.
"Cornell is ground zero," Westhill said regarding the fight for free speech.
He cited the civil rights movements of the 20th century, arguing that freedom of speech and the right to protest drive those in power to change their policies.
Among those events was the "March on Washington that demanded that black people be treated equally," adding that "people banded together to amplify their voice that something was wrong."
Despite all the progress of the 20th century, there is more to be made, he said.
Westhill cited a poll from 2021 that found that out of 37,000 college students, 66 percent agreed it would be "fine to shout down a speaker that you don't like."
When speaking about where the threat is coming from, Westhill argued "the evidence seems to suggest" it's mostly coming from the left. However, the threat exists from the right as well, he said.
Westhill told the audience he is "a proud Florida man, but in my home state, we've seen the Stop Woke Act signed into law, which limits what professors and teachers at a lower level, the K through 12 level, can teach their students, can talk about in the classroom."
Westhill said that there are "innumerable untold numbers of incidents of self-censorship."
When asked if some level of self-censorship is good, Westhill said that's "not censorship."
What is, rather, is the threat of violence, or literal violence, for expressing opinions, he said.
"If you think that something you're going to say … is going to result in one out of four of the undergraduates here beating you [up] for it, that's censorship," he said.
Westhill did not argue for unlimited free speech. He argued there are "ways in which people are held accountable by society for being totally on the fringes." However, now "everything to a certain degree is cancellable," he said.
While Westhill said he does not believe in a radical view of free speech, he argued that the alternative being pushed across America is worse.
He suggested he supports the idea of DEI in theory, that "properly done, DEI is a good thing," but not in its current form.
"I'm concerned [with] the bureaucracy that's built up around it today," he said, adding "there's no saving it."
MORE: 'Your words are violence!': Ann Coulter's Cornell speech shut down after repeated disruptions, outbursts
IMAGE: Gorodenkoff / Shutterstock
Like The College Fix on Facebook / Follow us on Twitter