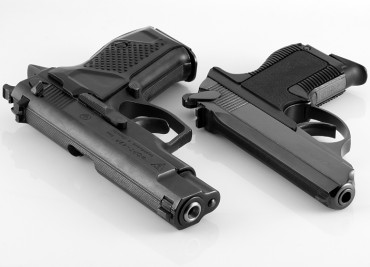 Northwestern's Associated Student Government passed a controversial resolution this week endorsing gun control.
The final version of the resolution, titled "Students Support Gun Control," states "the Northwestern student body supports improved gun regulations."
ASG also created a gun control committee that will "compose an open letter to our representatives in the United States government to work together to make bipartisan movement on gun control."
The main controversy over the resolution was whether the student government could take positions on political issues without marginalizing students with different opinions.
Dane Stier, the President of Northwestern's College Republicans, took issue with the vote:
"The last time I checked, it's not ASG's mission to remind Congress to do its job or to decide what Northwestern's 'official' opinion is on national issues," he said.
Stier also accused ASG of bias in its passage of the resolution.
"I've been talking to several students who see this as just another step of discrimination against conservative and libertarian students, and that's upsetting for me to see and for them to experience," Stier said.
"We tried to make ASG aware of this, but apparently political diversity is excluded from their definition of diversity."
Stier was the co-author of a different ASG resolution crafted in response to "Students Support Gun Control." Titled "Political and Partisan Issues," the resolution argued for restraint on ASG's part with regard to partisan political issues not directly connected to students. It failed to pass.
One of the main authors of "Students Support Gun Control," Steven Monacelli, explained his reasoning for the resolution in an interview with The College Fix last week:
"To me, this is about students speaking up about an issue that disproportionately affects them and other young people," he said.
On ASG not respecting 'political diversity,' Monacelli commented.
"People are entitled to different political opinions, and yes we should respect them. So obviously it would be bad if ASG were to act in such a way that literally restricted the rights of students to express their opinions," he said.
"However, because we have a majority vote and we can clearly list who voted up and who voted down and what number of senators voted, I don't see any sense of political discrimination."
At the same meeting that "Students Support Gun Control" was passed, ASG also passed a resolution supporting Northwestern's total divestment from the coal industry.
Fix contributor Charles Rollet is a junior at Northwestern.
Click here to Like The College Fix on Facebook.
Image source: Stanislov Yanchenko / Wikimedia Commons