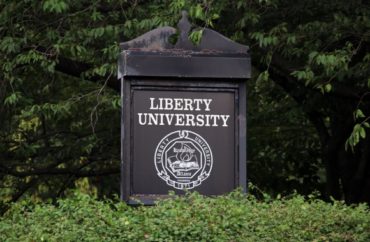 At issue is a possible high school graduation ceremony on the school's campus
Lynchburg – Some residents of this small Virginia city were at odds with a recent proposal to move a high school graduation ceremony to local Liberty University, claiming that the school presents an unsafe environment for non-Christians and other minority demographics.
Students at Liberty, meanwhile, have offered their own critiques of the university, some of them partly agreeing with that assessment and others disputing it sharply.
Lynchburg City Schools announced earlier this month that it planned to hold several high school graduation ceremonies at Liberty University to accommodate expected large crowd sizes. Numerous parents and students were opposed to the measure.
At a recent public meeting of the school board, WHSV3 reported, one parent, Jennifer Williams, claimed that the school system, by holding the ceremonies at Liberty, was sending a message that some students are "not equal" and "not wanted."
"I do not feel safe or welcome anywhere near Liberty University due to the hateful and dangerous statements that they've made about my community, and my people," Williams' daughter, Jessica, said at the meeting. The young woman said that she is both Jewish and gay. She claimed that a ceremony on Liberty's campus would come "at the expense of the students' safety and comfort."
The Lynchburg News & Advance also reported that one Jewish family claimed the campus is "an extremely uncomfortable place for us to be."
Another senior declared in a written message: "If graduation is held at Liberty I WILL NOT WALK."
The arrangement ended up falling through: Though it initially agreed to host the ceremonies, Liberty University subsequently declared that its Vines Center would be under construction on the dates of the ceremonies and thus unable to accommodate the graduations.
A city schools spokeswoman confirmed to The College Fix on Tuesday that the ceremonies would be hosted elsewhere. "We didn't sign a contract with Liberty," she said, adding that it is not yet known if Liberty will be considered for future graduation events.
Students agree, disagree with harsh assessments
Some students at Liberty who spoke to The College Fix dispute the claim that Liberty is unsafe in any way. Anna Kelchner, a practicing Catholic and sophomore at Liberty, refuted this idea.
"I believe that a person of any religion or sexual orientation is completely welcome on our campus. Every human being is made in the image and likeness of God and Liberty students truly embrace that in any way possible," Kelchner, a communications major, told The Fix. She added: "I believe that Liberty students would go above and beyond to show people of other religions or sexualities not only the love of the Lord, but genuine love from the student body."
When asked about her Catholic faith, Kelchner said that the Liberty community has been arguably neutral in its reception of her beliefs. "I have been criticized for my religion by some while also been very respected by others. That is life, you will never go anywhere where it is full disrespect or full respect," she said.
Another student at Liberty, who asked to remain anonymous, offered a sharply different assessment of the campus climate, or at least of the school's leadership. "Administration absolutely mistreats students based on their views. Ask Catholic students who have been prevented from leading prayer groups, or Democrat students who can't form a club without fear of their faculty advisor being fired," the student said.
"I believe that many students truly strive to treat each other with dignity and respect regardless of race, gender, religious belief, or sexual orientation– but [the] administration does not do the same," the student continued.
The student had more positive things to say about the general campus atmosphere. "The school has diversified quite a bit in the last few years—it's great to see all the different groups on campus these days…I have found one-on-one conversations about tough issues to be overwhelmingly respectful and productive."
"College is a place to grow, and I think there are students and student groups on campus that can really act as a catalyst for those meaningful conversations to happen."
Survey indicates most people okay with ceremony at Liberty
A survey designed by the city and obtained by The College Fix was administered to the two local high schools who were set to host graduations at Liberty. The majority of respondents supported the move.
Among those surveyed at Heritage High School, support was at 75 percent overall, with approximately 60 percent of staff, around 80 percent of students and roughly 70 percent of parents in agreement.
At E.C. Glass High School, 66 percent of families also agreed with the decision.
Liberty University states on its website: "With students from all 50 states and over 70 nations around the world, Liberty is a crossroads for individuals with differing points of view and life experiences."
MORE: Professor leaves Liberty University, cites need for academic freedom
MORE: Feminism group launches at Liberty to counteract male-dominant leadership
IMAGE: Katherine Welles / Shutterstock.com
Like The College Fix on Facebook / Follow us on Twitter