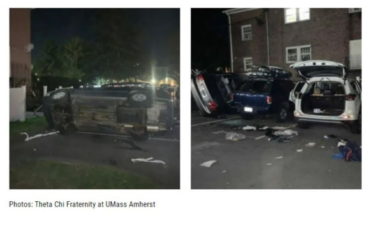 Protests based on vague online anonymous allegations: 'tried in a public square by a violent mob'
Recent online sexual assault allegations against Theta Chi at the University of Massachusetts Amherst resulted in raucous protests that included flipping a car and injuring a member of the fraternity.
But university leaders have said they have not received any formal complaints against Theta Chi members to date.
Violence and vandalism ensued at the fraternity house after an anonymous YikYak post from a student claimed to have been sexually assaulted at Theta Chi.
An online petition quickly called for the disbanding of the Greek Life organization, citing multiple alleged sexual assault allegations against members in the frat that have surfaced online — though unspecific.
"Multiple brothers have drugged vulnerable college-aged girls and have been involved in many violent acts towards men," states the petition, signed by more than 30,000 as of Oct. 5. "SIGN TO SHUT THEM DOWN OR EVEN GET THEM SUSPENDED!!"
Relying solely on the allegations expressed online, protestors persisted in demonstrations across a number of days — even camping out in front of the frat house.
A mob at UMass flip over a car outside the Theta Chi frat house after allegations of sexual assault were made against the frat pic.twitter.com/3U3tdgu8vM

— Fifty Shades of Whey (@davenewworld_2) September 20, 2021
According to reporting by MassLive, at one point a car was flipped over by protestors, a fraternity brother was hit in the face with a glass bottle, windows were broken at the frat house, and a helicopter circled school grounds as part of crowd control as protestors chanted "F— Theta Chi."
Two UMass students were reportedly arrested and charged with disorderly conduct.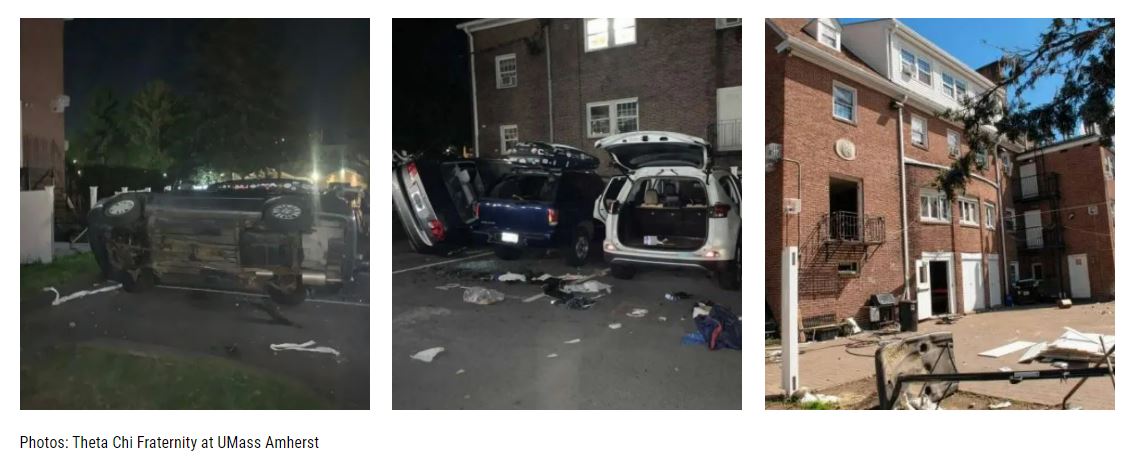 (Images via WWLP)
Campus leaders held a forum Sept. 19 to discuss claims of "rapists" at UMass.
The absence of any allegations on paper, though, is what prevents the university from opening an investigation probing the broad allegations laid out in the petition.
"While we respect and support a survivor's decision whether or not to report an assault or pursue sanctions, we cannot take action against alleged perpetrators, whether they be individuals or organizations, without actionable evidence," UMass Chancellor Kumble Subbaswamy told students.
Chancellor Kumble R. Subbaswamy was asked whether he supports Theta Chi or not and he replied, "I will not be making a statement in support of the fraternity." #UMass @MDCollegian pic.twitter.com/48cOE1aby9

— Liesel Nygard (@LieselNygard) September 28, 2021
Multiple professors also attended the protests, including UMass sociology Professor Veronica Everett.
"The madness for me was girls coming to me from [University Health Services] because they didn't want to press charges but they needed therapy, and I spent three to four years dealing with the trauma that they never reported," Everett said, according to Mass Live.
"They don't report because you know what happens. They don't get listened to and if they get believed, they still don't get justice."
Meanwhile members of Theta Chi fear for their own safety.
Theta Chi letter asks UMass Amherst to protect frat members amid sexual assault allegations https://t.co/Ieil9nhtF7

— WWLP-22News (@WWLP22News) September 30, 2021
"The protest drove the CEO of the national fraternity to write a letter to [Subbaswamy] asking the school to provide security and to expel anyone found to have committed violence or property destruction against Theta Chi members," the Daily Beast reports.
"Claiming the fraternity brothers were being 'tried in a public square by a violent mob,' CEO Michael Mayer called on school administrators to publicly declare that Theta Chi was an 'innocent party' in the allegations."
"'What is UMass doing to right the wrong that has been inflicted on Theta Chi students on campus?' Mayer wrote. 'What is UMass doing to ensure that Theta Chi members, also your students, never have to endure the attacks from a violent student-mob again?'"
One parent of an undergraduate student who attends UMass Amherst told The College Fix that the hundreds of protesters in front of the frat house forced brothers in the fraternity to remain in lock-down whilst the activists attacked the building — as they were undoubtedly outnumbered.
In addition, windows were broken at the fraternity house as a result of protestors throwing objects at the building. Hence one brother being injured by a thrown bottle.
Meanwhile, MassLive reported that there has been an increase in anti-black racism at the public university in light of alleged "racist emails and online messages, as well as a verbal slur," which were directed at African American students at the school.
The anonymous letter suggests that black people should be sterilized. UMass has since hired a cybersecurity firm to investigate the source.
What it's like to be black at Umass Amherst. You mind your business then get emails like this pic.twitter.com/jIwC3LhicD

— #freehaiti (@sari2loves) September 24, 2021
Moreover, someone reported that a person yelled an anti-black slur at an African American student.
At present, it remains unclear who is behind both the racist email and the drive-by racial slur.
MORE: UMass Amherst hires cybersecurity firm to investigate racist emails sent to black students
Like The College Fix on Facebook / Follow us on Twitter