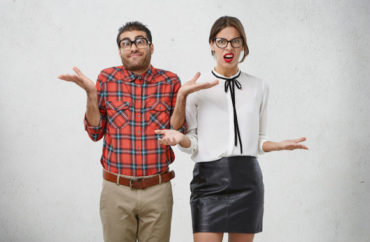 They were hoodwinked by a 'ghoulish' 'right-wing group'
If you live in a moderately urban area, you've probably seen tents erected on sidewalks and in parks over the past several years. They're all over Washington, D.C., where I live.
Letting homeless people set up tents is easier for municipal leaders than finding ways to house them, but residents often don't appreciate this policy choice.
Activists in Austin, Texas, started a petition campaign to convince the city to reinstate its ban on homeless camping, which the city council overturned in June 2019, and they sought support at the University of Texas.
Several students signed the petition without apparently reading it, and now they're mad … at the petition organizer.
The Daily Texan has a report that's both illuminating for showing the combination of moral indignation and stupidity in these students, and for illustrating the newspaper's own editorial choices.
It opens with a pointless detail – that a petition canvasser outside in a park was "maskless." There's only one reason to note this: to signal to readers that this person, and by connection his cause, is irresponsible.
The canvasser, working at the behest of Save Austin Now, told Aswathi Thomas and her friend that the petition would "help homeless people get off the streets." They signed it, apparently without reading it. Here's just one heading that would replace current Austin law:
SITTING OR LYING DOWN ON PUBLIC SIDEWALKS OR SLEEPING OUTDOORS IN THE DOWNTOWN AUSTIN COMMUNITY COURT AREA PROHIBITED
If Thomas and her friend didn't get that far, they could have just read the opening paragraph:
The purpose of this ordinance is to restore generally the provisions of the Austin City Code that were in effect on June 19, 2019 prior to the City Council's action, expand the area in which solicitation is prohibited during the evening and nighttime hours, and modify the boundaries of the geographic area to which the ordinance applies to encompass the area that contains the campus of The University of Texas at Austin and areas where many students at the university and through which they must move to travel to and from the campus.
That's right – the petition clearly states in its first paragraph that not only would it reinstate the ban, but would expand it to the UT campus and adjacent "areas." There's no way any intelligent person could even skim this petition and not realize what it does.
Yet Bennett Burke, a Young Democratic Socialists of America activist at UT, tweeted that he heard from "a dozen friends and classmates" that they signed the petition without realizing what it did. (Another example of the newspaper's editorial choices: It only identifies Burke's socialist activism in the final paragraph.)
He's offering to help these and other dullards get their names off the petition, which is fine, but Burke also feels the need to explain away their negligence. Save Austin Now is a "ghoulish" "right-wing group trying to criminalize being unhoused in public" that has to "lie to get support," he nonsensically claims.
i've had literally a dozen friends and classmates message me since this is up asking for help getting their name of the petition. SAN is so ghoulish they have to lie to get support, and when people learn the truth they want nothing to do with it!

— ben b (@bsb_tx) January 15, 2021
Burke says he helped about two dozen people, mostly UT students, get their names off the petition, but Thomas was too late in requesting his help: The petition had already been submitted. "I just feel very frustrated that I was misled into signing it," she claims. (Save Austin Now claims that under 10 people contacted the organizers to have their names removed, out of 27,000 signatures.)
The Daily Texan gives no explanation of how Thomas or anyone else was "misled," other than Save Austin Now sharing its talking points: that it's bad for people to live on the streets when Austin "has shelters and other facilities that do not reach maximum capacity and that are available to individuals as an alternative" to camping. (Again – this is from the opening paragraph of the petition.)
You may remember an admissions scandal that plagued UT much of the past decade, wherein academically unqualified but politically connected applicants were granted admission. It makes you wonder if any of them signed this petition without realizing that they should read it first.
MORE: UT admissions still plagued by 'cheating at a very high level'
IMAGE: WAYHOME studio / Shutterstock.com
Like The College Fix on Facebook / Follow us on Twitter