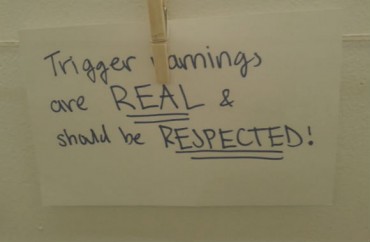 The University of South Carolina approved a demonstration by libertarian students only to threaten to punish them after other students complained the demonstration was "triggering" and "offensive," according to a new lawsuit against the school.
The Foundation for Individual Rights in Education filed its latest Stand Up for Speech lawsuit on behalf of Young Americans for Liberty and College Libertarians at the school.
The suit targets USC's free speech zone, which "requires that students register in advance" before they can speak, and its "Student Non-Discrimination and Non-Harassment Policy," which bans "unwelcome" speech and "suggestive or insulting gestures or sounds," FIRE said in a press release.
The suit emerged from an "outdoor event" by the libertarian students "displaying posters with examples of expression that had been censored on campuses across the country" – posters that had been submitted to and approved by the USC campus life director as a courtesy, FIRE said.
RELATED: Professor fired for cussing sues Louisiana State for saying she sexually harassed students
Yet the day after the event, a different campus office – the Office of Equal Opportunity Programs – ordered the presidents of the two groups to come in and justify the messages they were trying to send via the posters, which had drawn student complaints.
USC dropped the inquiry two weeks later but didn't respond to CL President Ross Abbott's letter asking the school to expunge his record, state unambiguously that USC protects controversial speech and adopt the so-called Chicago Principles in defense of free speech and academic freedom, FIRE said:
"Even if University of South Carolina students play by the unconstitutional rules and seek permission to exercise their rights, they still risk punishment," said [FIRE Director of Litigation Catherine] Sevcenko. "No one should have to explain their speech to a government bureaucrat under threat of punishment, especially on a college campus, but that is exactly what USC made Ross do."
Read the lawsuit and press release.
RELATED: University of Chicago releases sweeping free-speech statement
Like The College Fix on Facebook / Follow us on Twitter