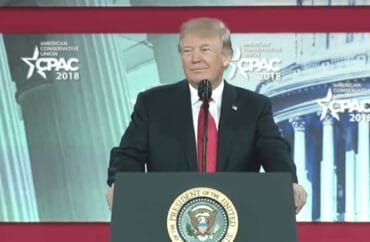 DePaul University grad student Ema Gavrilovic woke up before sunrise on Friday to get in line to see President Donald Trump at CPAC. She joined the queue by 5:15 a.m. About 100 students had already beaten her there.
"Some got there at 4:30," Gavrilovic told The College Fix, adding she didn't mind the early rise.
"He's my favorite president," she said of Trump. "I love all of his initiatives."
Trump's speech at CPAP on Friday was a hit among the millennial conservative set, according to interviews. It drew a huge crowd of college students and young people, who helped lead the crowd in chants of "USA, USA" several times during the speech. "Lock Her Up" also made an appearance.
Gavrilovic said she heard "Build the Wall" during a pause in his talk, too.
"Everyone I've talked to or met at CPAC enjoyed the speech," Gavrilovic said, adding that many peers came especially to the annual conservative conference this year to see the president.
Reaction to the speech was mostly positive among several college students interviewed by The College Fix. They called it funny, relatable, and reminiscent of fun-loving candidate Trump.
"I think his area of expertise is in a rally situation where he talks with people," recent college grad Peter Burman said. "I think his language is universal, as it is easy to understand and he's straightforward enough to understand what he's thinking."
"One thing I don't think he gets enough credit for is humor. I found his humor to be really appealing," he added.
Some students wore bright red "Make America Great Again" hats. Other young people were the first to stand and clap when he made points about protecting their constitutional rights, such as the Second Amendment.
Tyler Bustamante, a student at Mt. San Antonio College, called the speech "optimistic."
"Not only was he talking about his successes that his administration was able to accomplish within his first year, he also talked about the future of what he wishes to do to help the country," he said.
"The Trump we did saw today was not President Trump but the rally Trump," he added, citing the presidents' friendliness with the crowd.
Satya Ath, an incoming freshman at the University of Alabama, was among those who woke up at 4:30 a.m. to get in line in time to see the president.
"President Donald Trump is continuing to make America great! Such a blessing to see him speak in person," she posted on Facebook after his speech along with pictures and video snippets.
Emily Kaib, a student at the University of Pittsburgh, said she "really liked his speech"
"He did a great job of balancing issues with humor," she said. "Reminded me a lot of him on the campaign trail."
The speech helped Kaib increase her appreciation of Trump, she said.
"The presidency is such a difficult job, so it's impressive to see him full of vitality at this point with everything going on," she said.
MORE: Trump top choice among young Republican voters, Harvard poll finds
Like The College Fix on Facebook / Follow us on Twitter