After gaining national backlash, a "Christian Privilege" diversity workshop at George Washington University faced thoughtful debate from Christian students who attended the event to defend their faith.
The Christian students in attendance report it largely consisted of a reproach on white privilege, and that its facilitator — a white, Christian male — deflected students' questions with progressive platitudes.
While the discussion centered around "whether or not Christian privilege exists, and in what context it exists," much of the workshop was spent on white privilege, Emma Shindell, a sophomore political science major who attended the event, told The College Fix.
When students asked questions about these forms of privilege and how they were related, Shindell said no clear answer was given.
The university's Multicultural Student Services Center had hosted the April 5 workshop, titled "Christian Privilege: But Our Founding Fathers Were All Christian, Right?!"
After The College Fix reported on the event April 3, the Fix's article landed on the Drudge Report and quickly went viral, prompting the phrase "Christian privilege" to trend on Twitter for hours. It garnered national attention and denouncements from Christian who argued that their faith is actually under attack across the globe in many ways.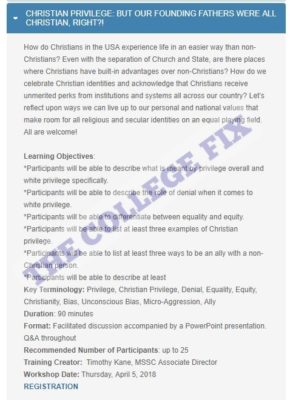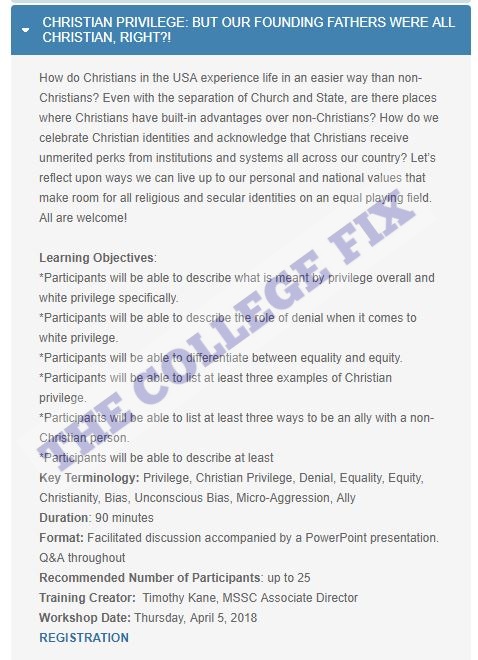 That same day, George Washington University scrubbed from its website lengthy descriptions of the Christian privilege diversity workshop as well as the descriptions of other workshops offered through the center, ones focused on "heteroesexual privilege," "cisgender privilege," "abled-bodied privilege," "socio-economic privilege," "unconscious bias," and more.
University officials have not responded to repeated requests from The College Fix over the last week to explain why they removed the online information or what they have to say to the national backlash the event generated.
The "Christian Privilege" diversity training session aimed to show how Christians have "built-in advantages" in the world today in relation to their non-Christian counterparts, according to a description of the event screenshot by The College Fix before it was removed. It would also detail how Christians "receive unmerited perks from institutions and systems all across our country."
According to notes Shindell took during the lecture, students were taught to "accept" that Christian privilege is real and use data to fight "unconscious bias."
George Washington University student Abigail Marone — who also attended the event — said she repeatedly asked questions regarding how privilege from something you can't control – skin color — and privilege from something you can control — religious beliefs– are comparable, in an interview with Fox & Friends reported on by Townhall. 
Marone, a Campus Reform correspondent, went on to say that an analogy commonly used was that of a set of escalators and set of stairs. She said that Christians who had privilege were on the escalators and those without privilege had to take the stairs. She said she was once again over-looked when she brought up that the "escalator to Christianity is open to everyone who wants to get on it, regardless of your skin color, your socio-economic status, anything."
Shindell told The College Fix that she believes that "respect for Christians on campus has deteriorated specifically because of the finger-pointing done by groups like the MSSC."
She said students are "made fun of for attending religious services" and they are looked at as "less than."
"Religious preference has been used to make remarks about the intelligence of specific students on campus," she said. "Many students view religion, but more specifically Christianity, as a 'fun myth' that's worthy of study but not worthy of practice."
Shindell also said these types of events don't help the divide between the secular and religious population on campus.
"There are tremendous differences between students on GW's campus, but the way to overcome those differences is to lift everyone up, rather than demonizing a monolith of demographics commonly demonized in the media today with a tremendous lack of nuance," she said.
MORE: University event aims to combat 'Christian Privilege'
IMAGE: Shutterstock
Like The College Fix on Facebook / Follow us on Twitter