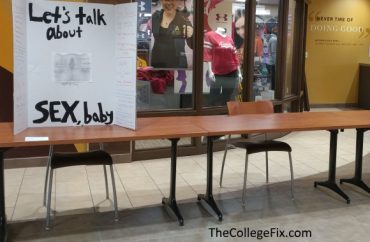 Students at an all-women's Catholic college in Wisconsin were recently shown a poster board that included a large and graphic image of a woman's vagina, statements touting free sex, and a list of "resources" that included websites such as plannedparenthood.org and queertips.org.
The poster was put on display March 21 in the lobby leading to Alverno College's cafeteria.
Headlined "Let's talk about SEX, baby," the poster included statements such as "virginity is a social construct that promotes heteronormativty" and "support women who have a lot of sex."
As pictures of the unmanned poster obtained by The College Fix show, it also listed "5 tips to make talking about sex easier," including the advice to "share erotica or porn that you like with your partner."
Another panel of the poster board included "resources" from "LGBT+ friendly" sites, including Scarleteen.com, Asexuality.org, Queertips.org, PlannedParenthood.org, Bisexual.org, and Bedsider.org. This despite the fact that the Catholic Church takes a stance against same-sex marriage and abortion, a conflict with many of the cited resources.
The student who provided the images of the poster to The College Fix, which she described as "borderline pornographic," said those responsible "deliberately chose to discard discretion, social and sexual morality, and consideration for how their creation would violate the minds, eyes, and values of a distinctly God-fearing or sexually conservative demographic in the student body."
"More, for such borderline pornographic content to be displayed in a high traffic area such as it was, students like myself were forced to be subjected to
the posters' explicit 'social justice' agenda in the most jarring of ways while simply attempting to buy a meal," said the student, who asked for anonymity. "As a conservative student with distinctly Christian values, I cannot understand how something as vividly offensive to the eyes as this would be allowed to be displayed on a catholic campus."
The poster may have had permission to be displayed, at least initially.
Kelly Fay, a spokeswoman for Alverno College, told The College Fix in an email that a "student organization posted the display with the intent of educating its peers and enhancing the dialogue around subject matters that some may find difficult to talk about."
When staff members from the Office of Student Activities and Leadership saw the display, Fay explained, "they removed it and met with the leaders of the student organization" and "agreed that the way the student group went about presenting its viewpoint was not in keeping with the standards put forth by the college."
Fay did not respond to follow-up emails or phone calls from The College Fix asking for confirmation that the display had received initial permission and for the name of the student group which posted it.
MORE: Catholic college officials tried to stop students from throwing America-themed party
Like The College Fix on Facebook / Follow us on Twitter