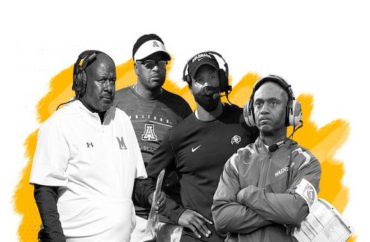 A recent study by a trio of sociologists reportedly shows that college football teams with black head coaches are penalized more often than teams with white coaches.
The study, published in March in Social Science Quarterly but released on May 1, states "black coaches are more heavily penalized than white coaches in terms of both penalties per game as well as penalty yardage."
This held true "even adjusting for the quality of the players, coaches, and schools studied," BuzzFeed News reports. The study looked at every Division 1 college football game between 2014 and 2019.
Lead researcher Andrew Davis of North Carolina State University noted football is "a game of inches" where results "can turn on the smallest setback."
"Penalties, no matter how many yards they are worth, can disrupt the momentum of a team, kill scoring drives, cost important yardage and downs on defense, and cost teams precious opportunities in close games," Davis said.
MORE: HBCU officials wonder: Is March Madness biased against black colleges?
In the study, the researchers […] found that teams with Black coaches typically were given 5.5 more penalties in a 12-game season and nearly 7 more penalties in a 15-game season. (They could not statistically show the penalty yards effect, however, for the longer time period.) The study controlled for other factors in the analysis, such as winning percentage, recruiting quality, US News & World Report rank of the school, whether it had a Black quarterback, coaching experience, and its conference.
Davis acknowledged a weakness of the study was not being able to show the effect of the timing of penalties — if they were called at "pivotal" moments.
And then there was this little caveat: The study "could not conclusively prove the additional penalties were directly due to the coaches' race or ethnicity" (emphasis added).
Nevertheless, sports management expert George Cunningham of Texas A&M University said the research provides "compelling evidence" of penalty differences and shows "another form of bias that Black coaches face in the football context, whether in college or professional."
Eastern Collegiate Football Officials Association Commissioner Milt Halstead disagreed, however, saying "Referees are watching the play on the field, not the coaches. That's where the penalties happen."
MORE: Black HS coaches ousted after leading pre-game chant featuring the N-word
IMAGE: USA Today Sports / Twitter screencap
Like The College Fix on Facebook / Follow us on Twitter