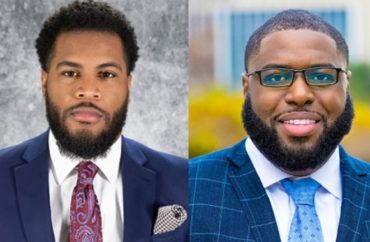 A pair of black academics argue in a recent op-ed that interest in police brutality-themed hip-hop music is being "silenced" due to white listeners tuning out.
Digital/Global Media Professor Jeremy McCool of West Chester University and "global strategy and workforce analytics leader" Tyrone Smith claim in Diverse Issues in Higher Education that, despite the hyper focus on race issues since the summer of 2020, "mainstream hip-hop has fallen short of reflecting [the moment]."
Their evidence? They merely note "it is safe to say."
McCool (pictured left) and Smith (pictured right) then point to a "quasi-experiment" conducted by one of the authors (McCool, and not disclosed in the article) which analyzed how blacks and whites viewed hip-hop tunes about police misconduct.
The critical race theory-laden study surveyed over 300 young adults, half of whom were white, on their opinions regarding four specific songs.
The songs included "Rockstar" by Da Baby, "Bigger Picture" by Lil Baby, "Neighbors" by J. Cole and "Trauma" by Meek Mill.
With all four songs, there was a "significant difference" between white and black listeners tuning out, the former doing so more often. This occurred whether participants were listening to the songs or having the lyrics read to them.
MORE: Course on 'genius' of Kanye West shows hip-hop is 'intellectually robust'
According to the McCool and Smith, the results "support the possibility of white listeners rejecting socially conscious hip-hop messaging at a higher rate than Black listeners."
They then ponder:
With record labels within the music business today aiming to serve this larger population, this research poses several questions. Are artists being incentivized to stray away from making socially conscious music? Are artists who typically make thought provoking music being shunned by the industry? What impact is this avoidance having on society at large? What impact is the solicitation of the genres current popular music messaging having on society at large?
Since the online version of McCool's thesis is truncated, the full section on "Perceived Influences in Hip-Hop Music" — which offers more detail on "alcohol/drug glorification" and "sexual imagery" factors — cannot be accessed. Nor can the section "Lack of Context, Inconsistencies & White Participants." Thus, if you're wondering if, say, the songs' actual lyrics (and/or music) is the actual reason white participants tuned out, you're out of luck.
Consider the chorus of (Da Baby's) "Rockstar," for example:
Brand new Lamborghini, fuck a cop car
With the pistol on my hip like I'm a cop (yeah, yeah, yeah)
Have you ever met a real nigga rockstar?
This ain't no guitar, bitch, this a Glock (woo)
My Glock told me to promise you gon' squeeze me (woo)
You better let me go the day you need me (woo)
Soon as you up me on that nigga, get to bustin' (woo)
And if I ain't enough, go get the chop
The College Fix asked McCool for clarification on these variables; he did not respond.
According to his faculty page, McCool's research "revolves around the perceptions of politically-driven hip-hop music, media effects, and Critical Race Theory." He once was a "radio personality" and has written a children's book titled "Princess and The Power of Melanin."
MORE: Hip-hop professor: 'Angry' white rappers unpopular now due to Trump's constant anger
IMAGES: West Chester University; Human Capital Institute
Like The College Fix on Facebook / Follow us on Twitter