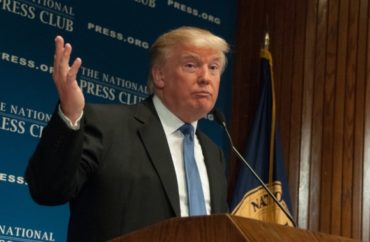 A new study from a "leading journalism organization" claims President Trump's criticisms of the media have "endangered American democracy" and "imperiled press freedom in other countries."
According to The Seattle Times, "The Trump Administration and the Media" report by the Committee to Protect Journalists asserts Trump's "anti-press behaviors" include referring to stories as "fake news" and attempting to ban certain reporters from the White House.
The report was authored by Leonard Downie Jr, a professor of journalism at Arizona State University and former executive editor of The Washington Post. In it, Downie offers an ominous warning:
"Trump's habit of telling 'the same lies over and over again,' combined with conservative lawmakers' efforts to restrict voting rights, raise doubts about whether the November election will be conducted fairly amid the coronavirus pandemic."
The report documents a series of attacks by Trump or his administration against the owners of media organizations in an apparent attempt to punish them for unfavorable coverage. …

Trump's deployment of the term "fake news" has encouraged authoritarian leaders in other countries to invoke the same phrase to justify press restrictions in their countries, the report said.

It noted that between January 2017 and May 2019, 26 countries enacted or introduced laws or rules restricting online media and journalistic access in the name of preventing "fake news." The leaders of Poland, Hungary, Turkey, China, the Philippines and Cambodia are among those who have cited Trump and "fake news" to criticize or restrict the press in their countries.
The study quotes Fox News's Chris Wallace as saying Trump "is engaged in the most direct sustained assault on freedom of the press in our history," and former CNN anchor Frank Sesno noting "President Trump's attacks on the press are an assault on the validity of the enterprise itself." Downie himself says Trump's behavior "reminds [him] of Richard Nixon's public verbal attacks on the press" during Watergate.
But the professor also castigates the previous — Obama — administration for having "present[ed] its own version of reality to the public" via the White House website and social media … a "precursor," he says, to Trump using Twitter.
Read the Times article and CPJ report.
MORE: Coronavirus spreads, journalists hardest hit
MORE: Progressive journalists unhappy about academic freedom for conservatives
IMAGE: Albert H. Teich / Shutterstock.com
Like The College Fix on Facebook / Follow us on Twitter