Congress continues to put pressure on websites that appear to aid in the solicitation of sex work
President Donald Trump's administration is partly responsible for a new wave of college students seeking out "sugar daddies" to pay off their student loans, according to a web service dedicated to facilitating such relationships.
A recent statement by SeekingArrangement, a website which matches "sugar mommies" and "sugar daddies" with "sugar babies," argues that U.S. Education Secretary Betsy DeVos* is "seemingly waging war against tens of thousands of student loan borrowers."
"Rather than look to Washington for relief, more than two million students are turning to Sugar Daddies and Sugar Mommies," the site claims.
The company's announcement comes even as Congress continues to put pressure on websites that appear to aid in the solicitation of sex work.
SeekingArrangement pairs wealthy older men and women looking for "companionship" with younger adults who are willing to be paid for their services. Often times, these relationships are expected to be sexual, some of its users have said.
Data from the company show 30 percent of the money earned by sugar babies is spent on tuition and school-related expenses. The site claims 2.5 million of its 20 million users are American college students.
In March, the University of North Carolina student newspaper profiled "Anna," an anonymous student who earned $12,000 a month from three sugar daddies. Every sugar baby interviewed by the paper said they regularly engage in sexual conduct with their sugar daddies, some being flown to New York to do so.
"Anna and many other sugar babies said sex is expected by a majority of men on the site," according to the Daily Tar Heel article.
According to a poll conducted in England in 2017, one in three college students is willing to trade sexual favors for help paying for college. The poll found that 59 percent of students were either "a bit," "mildly," or "very" interested in becoming a sugar baby.
But according to SeekingArrangement, the Trump administration and the ones before it are all but forcing students into sex work.
"Over the past three administrations, the overall cost of attending college has more than doubled," said Brandon Wade, the company's founder, in a statement.
"Students are tired of hearing politicians campaign on the importance of education, job growth, and opportunity-just to leave promises on the convention floor," he said.
SeekingArrangement declined multiple requests via email and phone to comment by The College Fix.
According to SeekingArrangement data, the average sugar daddy is 41 years old and has an annual income of $250,000. New York tops the list of "sugar dating" cities, followed by London, Toronto and Los Angeles.
"With an average monthly allowance of $3,000, student Sugar Babies can pay off tuition in about three months, leaving many with the ability to focus on achieving an education," the site states.
The site specifically attempts to recruit college women, as students with an .edu e-mail address are allowed to join for free. The company also distributes literature promising "debt free" college or "free tuition."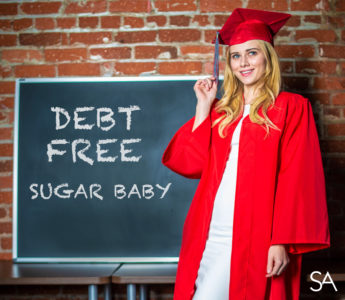 "Students registered on SeekingArrangement get help paying for tuition and even more benefits," claims the company. "Finding the right Sugar Daddy can help students gain access to the right network and opportunities. College Sugar Babies can also get help paying for other college-related costs, such as books and housing."
"Sugaring" also helps young women pay non-education-related expenses. One of the women interviewed by the Daily Tar Heel said working as a sugar baby allowed her to pay for necessary medicine.
The site classifies itself as a "venue," therefore absolving itself of performing background checks on its users. Potential sugar daddies and mommies can pay $2,000 to join the site's "Diamond Club," which verifies the user's income and conducts a background check.
For years, the site has faced accusations that it facilitates prostitution, taking advantage of young women in dire financial need. But the company has always maintained that it is simply a dating website where no specific offers of sex in exchange for money are made.
Nonetheless, Congress had continued to put pressure on websites that appear to aid in the solicitation of sex work. In mid-2018, President Trump signed both the Fight Online Sex Trafficking Act and the Stop Enabling Sex Traffickers Act, which were drafted to hold platforms and internet service providers responsible if users of the sites promote prostitution.
According to Eric Goldman, a Santa Clara University law professor who specializes in internet law, FOSTA raises "significant concerns" about the viability of the sugar daddy community.
Goldman told The College Fix that sugar daddy sites could find themselves in the crosshairs of a state or federal prosecutor "because of the fact that we all know what's going on, even if nothing expressly condones prostitution in the marketing material."
Goldman noted that the Fight Online Sex Trafficking Act added more crimes that could be pursued by either state or federal law enforcement officers. He suggested that "everyone is aware of this community," but it is a "very complicated decision" for prosecutors to decide whether to pursue charges against a sugar daddy website.
"There are some participants in the sugar daddy community who don't engage in commercial sex," added Goldman, warning that it would be "unfortunate to foreclose that possibility in the effort to shut down the commercial sex."
Following passage of the new federal law, websites like Backpage and Craigslist Casual Encounters went out of business, as both were accused of facilitating prostitution.
Attorney Justin Webb of Milwaukee-based law firm Godfrey & Kahn called SeekingArrangement's presence on the internet "unchartered legal territory," noting the laws "haven't been enforced against anybody yet."
"That's both good and bad" for SeekingArrangement, said Webb, noting that "it's good in that you're going to have a lot of people who were originally against FOSTA and SESTA perhaps writing amicus briefs in a case once it gets to an appellate level, but it's bad in that whatever court gets it can interpret it narrowly or broadly."
Webb said there might be some state attorneys general "itching for a test case" to take SeekingArrangement to court, "especially those that find this kind of conduct abhorrent."
But he also suggested a lawsuit could more likely come from the parents of someone who was hurt by the website or subjected to sex trafficking, who has deep pockets and feels "particularly aggrieved."
After passage of the new federal anti-sex trafficking laws, Apple iOS removed the SeekingArrangement app from its app store. Soon, Brandon Wade issued a video response to FOSTA, claiming prostitution was never welcome on his site and that SeekingArrangement would be closely monitored to purge known prostitutes and escorts from its users.
In the video, Wade says it was his mother that told him women, including many staunch feminists, "ultimately want a partner who is a good provider and has a kind, generous nature."
"If my mom is right, then many, many women aspire to be sugar babies," Wade said.
In recent months, several Democratic presidential candidates have released plans promising either free tuition, debt forgiveness, or both. According to one recent Harvard University poll, more than half of young people support making college tuition-free.
In December 2018, DeVos canceled nearly $150 million in student debt after a judge ordered immediate implementation of a rule enacted by the Obama administration. The Trump administration has also supported limiting the amount of student debt that can be accumulated by parents of undergraduate students and by graduate students.
The College Fix first profiled SeekingArrangement in 2011.
MORE: Student who made library porn video launches sugar-daddy site for students
IMAGE: Shutterstock.com / Alan Poulson Photography
Like The College Fix on Facebook / Follow us on Twitter