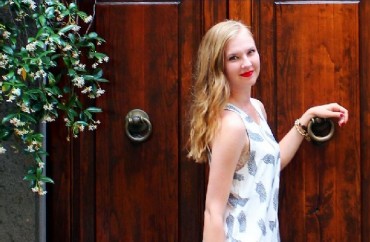 Crumbling roads. No jobs for millennials. Corrupt politicians. Internet access is practically nonexistent.
Sometimes things in America aren't nearly as bleak as we perceive them to be– it's just a matter of perspective.
I learned that this summer when I spent six weeks studying abroad in Orvieto, Italy – a small hill-town buried within the Umbrian countryside.
Living in Italy was a wonderful experience I will remember for the rest of my life. I studied one of my great passions, photography, in one of the most beautiful places in the world.
There are many things that are better in Italy than America, such as pizza and pasta, monuments, gelato, mass public transit, and fashion. However, I was thrilled when my plane touched down in the United States and I returned to the country I proudly call home.
Don't get me wrong: I was a flag-waving, Constitution-hugging patriot before I stepped foot in Europe. However, living in a foreign country made my love for my country even stronger as I learned to appreciate the little things about America that are often overlooked.
In Italy, I saw the reality of a country that is truly in trouble. It has a staggering public debt of almost more than $2.5 trillion, an unemployment rate over 12 percent, and a crumbling infrastructure.
Bloodsucking Tics
"Politics" translates to "the many bloodsucking tics" in Latin, and the Italian politicians and bureaucrats are certainly sucking the lifeblood out of their country.
According to Transparency.org's annual Corruption Perception Index, which ranks countries according to their perceived level of public sector corruption on a scale of 0 (highly corrupt) to 100 (very clean), Italy received a ranking of 43, making it the 69th most corruption country out of 150.
To put this in context, Qatar, Botswana, Bahrain, Slovakia, Rwanda, Saudi Arabia, Cuba, Turkey, and South Africa all received a lower corruption score than Italy. The United States received a score of 76.
Meanwhile, the Italian highways are crumbling roadways choked with weeds and covered in graffiti. And the money that could have been spent on repairing those roads went straight into the pockets of government officials.
A report issued by the Italian Financial Guard revealed that out of the $5.6 billion that was financed for public contracts in 2014, $1.62 billion were lost to fraud and $2.81 billion went unaccounted for, according to Al Jazeera.
Lack of Opportunities for Millennials
My 30-year-old landlord Tomaso lived with his parents in the unit above my apartment.
While living with your parents well into adulthood is common for the Italian culture, Tomaso wasn't able to move out anytime soon.
When my roommates and I asked him what he did for a living, he shrugged.
"You are my job," he said.
This was common with many of the young Italians I met – they still lived with their parents, had a part-time job or were unemployed, and were depressed about their job prospects, without hope of becoming completely independent from their parents.
The Italian unemployment rate for the under 30 demographic is currently above 41 percent, whereas it is just above 21 percent in the United States.
Economists have begun to call these young Italians "the Lost Generation" for their low job prospects and small paychecks – with no end to their economic hardships in sight.
Welcome to the Dark Ages
The Internet in Italy does not work.
In fact, Italy has the slowest rate of Internet connection in the European Union, which made it next to impossible to do anything from turning in homework assignments to simply checking my email.
"Fewer people in Italy have high-speed internet at home than in any other EU country" and "super-fast broadband barely exists in the country, with rural areas worst served," according to The Local, citing a report from the European Commission.
In America, an estimated 78 percent of Americans have access to a high-speed Internet connection, according to a 2014 U.S. Census Bureau report.
So the next time it takes a few minutes for an episode of House of Cards to buffer on Netflix, don't complain. At least you can even access Netflix… or anything at all on the Internet.
Not everyone hates America
The most curious lesson I learned while overseas was that being an American did not make me a target for hatred or disdain everywhere I went.
No one was outright rude to me for being an American, contrary to the stereotype of the prejudicial Europeans I had been forewarned about.
In fact, many people were welcoming and curious about my home and life in America.
At my favorite restaurant in Orvieto, L'Altro Vissani, the waiter who usually served my friends and I was hoping to move to American to seek the American Dream.
(Side note: if you ever find yourself in the Umbrian countryside, stop by that restaurant and get the gnocchi.)
He told us that he had worked in America the previous year on a visa and was sad to return to Italy when it expired – he loved our country and could not wait to return with a green card. He was working at the restaurant to save up money with the hope of returning to the States.
"God bless America," he said as we stood up to leave for the last time while he waved goodbye to us.
Like The College Fix on Facebook / Follow us on Twitter
IMAGE: Julianne Stanford