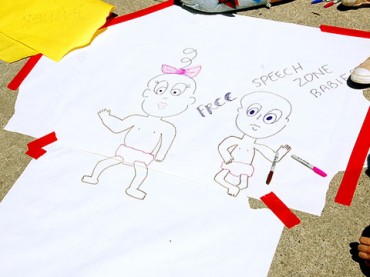 Free speech on college campuses scored an indirect victory in a Supreme Court decision this week concerning "false statements" in an Ohio congressional race.
Groups supporting student speech hailed the ruling in SBA List v. Driehaus, where the high court ruled unanimously that the Susan B. Anthony List, a pro-life group, has legal standing to sue Ohio even without being punished for its assertions in political campaigns.
That's because the group has engaged in "arguably" protected speech and faces a "credible threat of enforcement" in the future under Ohio law, according to Justice Clarence Thomas's opinion for the court.
The Foundation for Individual Rights in Education (FIRE), which filed a brief supporting the pro-life group's position, compared the enforcement threat to a campus group that risks punishment for advocating outside of "free speech zones" on campus. In a blog post hailing the court ruling, FIRE argued that such speech rules lead to students self-censoring instead of possibly facing punishment.
FIRE is all too familiar with such cases. At the University of Hawaii-Hilo, members of Young Americans for Liberty (YAL) were prohibited from handing out copies of the Constitution outside of the designated free speech zones.
At the University of Cincinnati, which falls under the Ohio false-statement law, YAL was ordered to stay in a small free speech zone on campus, limiting the group's ability to collect signatures for a "right to work" law.
The Student Press Law Center also applauded the ruling, saying it will embolden students who face threats of expulsion or lawsuits from their university.
The group argued in a brief that a ruling in favor of SBA List would likely change the current system, where students often avoid lawsuits against unconstitutional laws because possible expulsion from school will "deprive them of once-in-a-lifetime experiences."
One immediate impact of the ruling, according to the Student Press Law Center, is in allowing students to create parody accounts of student officials. A North Carolina law that ostensibly targets bullying, signed by then-Gov. Bev Perdue (D) in 2012, also makes it illegal for students to "build a fake profile or Web site" if it's done with "the intent to intimidate or torment a school employee."
After the Supreme Court ruling, students will now have standing to file suit against rules limiting advocacy to free speech zones before violating public university rules mandating certain activities only occur within those zones.
As noted by the First Amendment Center, a project of Freedom Forum, Robert Van Tuinen of Modesto Junior College wanted to hand out copies of the Constitution on campus last fall but was told he would have to reserve time in the free speech zone, and time would not be immediately available. Under the Supreme Court ruling, Van Tuinen could challenge that rule without first violating it.
College Fix contributor Matt Lamb is a student at Loyola University-Chicago.
Like The College Fix on Facebook / Follow us on Twitter
IMAGE: Cameron Parkins/Flickr