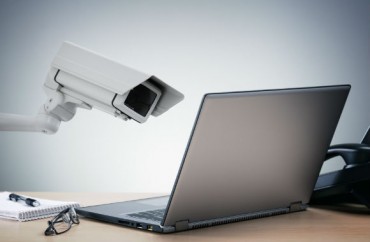 'I think social media is disastrous'
A philosophy and political theory professor with a forthcoming book on the surveillance state warns that students should stay off social media because they regularly make mistakes using it.
"Social media is disastrous," the professor added in an email to The College Fix.
Professor Firmin DeBrabander with the Maryland Institute College of Art is the author of a soon-to-be released book on privacy and democracy titled "Life After Privacy: Reclaiming Democracy In A Surveillance Society," which comes out in September.
DeBrabander's book warns about data harvesting by "some of the largest corporations on earth" and "some of the largest governments."
He said that despite the threats posed by "a massive onslaught of surveillance," the biggest catalysts of this surveillance are those being surveilled — consumers.
It is a common problem that DeBrabander said he sees with students.
"I am constantly amazed at how nonchalant students are when they share about their personal lives on social media," DeBrabander said via email to The College Fix. He said that students "seem all too willing to expose otherwise unflattering details or stories."
Even though students are regularly warned throughout their school years to be careful about what they post on social media, the message does not seem to get across:
High school students are told that universities they apply to are watching their social media feeds, for telling (or disqualifying) markers. College students are told the same about prospective employers, whom they will solicit when they graduate. Neither group seems to get the message. They are both far too careless about the salacious or embarrassing details they share on social media.
DeBrabander's recommendation? Just stay off social media:
From a purely social standpoint, I would recommend that students stay off of social media as much as possible—if they have posted inappropriate comments or not. I think social media is disastrous. It makes people anxious, spreads disinformation, and inspires people to speak rudely and roughly to one another; social media fails to capture the nuances of in person communication. It is a minefield.
He explained in his book one possible explanation for why students may share too much on social media — a false sense of security.
When people are online, they "forget or ignore that they are watched." Because Americans can access Facebook, Twitter or Amazon from the comfort of our home, their digital activity "sustains the semblance of privacy," DeBrabander wrote.
The ability to anonymously share information or views makes our identity seem "even more secure," DeBrabander wrote.
In his book, DeBrabander warns that democracy and liberty are "unthinkable without privacy." He said that citizens care "little about privacy."
The coronavirus pandemic served as a test case of how people will act as the country moves towards an even more digital "economic and social life," DeBrabander said.
MORE: Syracuse University accused of carrying out cyberattacks for a week
IMAGE: Brian A. Jackson/Shutterstock
Like The College Fix on Facebook / Follow us on Twitter