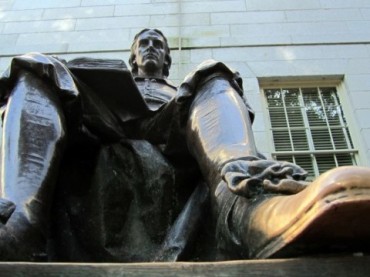 A recent survey of graduating seniors at Harvard University found that a large chunk of the class of 2015 has felt "marginalized" at the Ivy League institution because of their race, socioeconomic status or sexual orientation.
That is not to say they actually were marginalized, which is loosely defined as treating a person as insignificant, left out or brushed aside. But the survey respondents felt as though they had been.
"In a class that witnessed an often explosive national debate about racial discrimination, 24 percent of seniors said that they have felt marginalized because of their race or ethnicity while at Harvard, including 74 percent of black students, 40 percent of Latino students, and 54 percent of East Asian students," the Crimson reported.
So about three out of four black Harvard students have felt marginalized.
Could it have anything to do with the fact that Harvard uses a "holistic" admissions process, so that students are not accepted solely for their academic prowess but also because of the color of their skin? With that, many black students essentially fill a feel-good quota set by the powers that be. Even though many of these students are highly accomplished, because admissions is subjective and officials want a certain student body make up – it's still a numbers game. That's sure to make someone feel marginalized.
And perhaps it's no surprise Asian students have also felt marginalized – they are the race Harvard bean counters have actively tried to keep out. Harvard's discrimination against Asian-American applicants is now part of a civil rights complaint filed with the U.S. departments of Education and Justice.
But black and Asian students are not alone.
"Other minority groups reported similar feelings due to class or sexual orientation," the Crimson went on. "Despite the fact that 62 percent of seniors reported receiving financial aid from Harvard, 67 percent of students whose families make less than $80,000 per year said they've felt marginalized because of their socioeconomic status while at the college."
"Moreover, in a class where 15 percent of students identified as gay, bisexual, something else, or unsure, 47 percent of respondents who identify as gay or lesbian said they have felt marginalized because of their sexual orientation at some point since arriving on campus."
To me, the question of marginalization is absurd.
It would seem impossible for anyone, of any class or race, to get through four years of college without feeling "marginalized" at some point. Without having their feelings hurt, their heart broken, or some other negative experience.
Who cares? Big deal? It's called life.
I drove a Nissan Sentra in college while others drove Range Rovers. I waited tables in college while others had a full ride – courtesy of their parents. I never really dwelled on it.
But Harvard students, and others, are taught to view the world through identity politics, so they internalize their disappointments not as bumps in the road that make them stronger, but as injustices.
Many young people, Harvard grads no exception, also think it's their Constitutional right to go through life without being offended. Plus they're taught – by many of their professors – that everyone should be equal. So of course so many students report they've felt marginalized.
But it's the tough life lessons that teach people how to grow thick skin and put experiences in the proper perspective. I'm glad I waited tables in college – it fostered a strong work ethic in me that has helped me through my professional career.
Let's hope the best and brightest of America's class of 2015 will not spend too much time worrying about how some students were richer than others or that they got their feelings hurt in college.
Jennifer Kabbany is editor of The College Fix (@JenniferKabbany)
Like The College Fix on Facebook / Follow us on Twitter