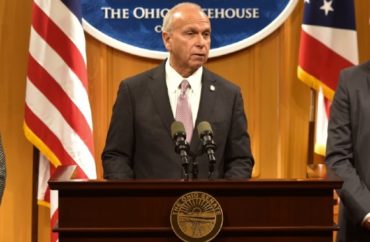 A comprehensive higher education legislative proposal in Ohio to outlaw mandatory diversity, equity and inclusion trainings and statements, require intellectual diversity, and enact post-tenure review is making its way through the Ohio Statehouse.
State Sen. Jerry Cirino, S.B. 83's primary sponsor, said he and his fellow Republicans have been "working the bill with our heart and soul," and it's expected to pass through the final committees in the next few weeks on its way to a full House vote in early December. It was approved by the Senate over the summer.
Cirino (pictured) said the GOP has a supermajority in both houses, and the bill will hopefully be on Republican Gov. Mike DeWine's desk soon.
"I have been told by some people highly respected in the higher education community that when this bill passes it will be a template legislation for other states to follow," Cirino told The College Fix in an interview Tuesday.
The legislation, which has prompted controversy, has gone through several revisions to get this far, Cirino said.
Its current iteration omits a controversial "no strike provision" to help move the proposal forward, he said, noting it was a necessary compromise even though "I never liked the idea of students getting screwed out of their instruction because someone wants a better dental plan."
But the bill, which seeks to reform problems plaguing the state's 14 public universities and 23 community colleges, would require that each school publish the syllabi for all its undergraduate courses and force universities to roll out a post-tenure review policy.
If approved, it would require boards of trustees to adopt and enforce a policy that prohibits "any mandatory orientation or training course regarding diversity, equity, and inclusion" as well as "affirm and declare that the institution shall ensure the fullest degree of intellectual diversity."
The bill would also require faculty and staff to "encourage students to reach their own conclusions about all controversial beliefs or policies and shall not seek to indoctrinate any social, political, or religious point of view."
The proposal would mandate colleges and universities demonstrate intellectual diversity for course approvals, general education requirements, guest speaker programs and common reading programs. The institutions would also be forbidden from endorsing or opposing most controversial beliefs or policies.
If approved, it would also ban political and ideological litmus tests in all hiring, promotion, and admissions decisions, including diversity statements.
"Nothing in this section prohibits faculty or students from classroom instruction, discussion, or debate, so long as faculty members remain committed to expressing intellectual diversity and allowing intellectual diversity to be expressed," the bill states.
The proposal would also require universities develop a history course that requires students read: the Constitution; Declaration of Independence; five essays from the Federalist Papers; the Emancipation Proclamation; the Gettysburg Address; and the Letter from Birmingham Jail.
The history course would be required beginning with students who graduate in 2029.
Greg Lawson, a research fellow at The Buckeye Institute, told The College Fix the recent changes to the bill improved its chances of passing.
"While nothing is set in stone until it actually happens, Senator Cirino as well as the House committee leadership has put in the time to get the bill to a place where it stands a good chance of making it to the Governor's desk," Lawson told The College Fix via email.
While the bill is a good start, Lawson said even more would need to be done to reform higher education.
"For example, as I testified, Ohio should cap administrative expenses that make college more expensive for families and taxpayers while keeping limited tax dollars focused on preparing and equipping students to meet the challenges of the 21st century workplace," he said.
"Ohio should financially rewarding schools that graduate students with more manageable debt-to-earnings ratios and better workforce credentials while penalizing those that do not succeed in this area."
MORE: Ohio State University looks to embed DEI into every aspect of campus life
Like The College Fix on Facebook / Follow us on Twitter