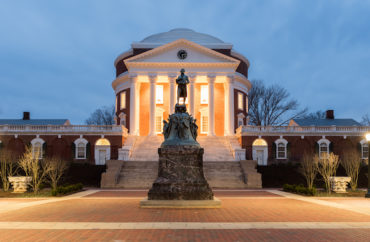 UPDATED
In September 2018, a swimming class at the University of Virginia was about to get underway when a female student told the instructor she couldn't swim that day because she was on the third day of her menstrual cycle.
The swim instructor suggested the student swim while wearing a tampon, and the student subsequently reported her teacher to the university's bias and harassment program.
"I am not ashamed of the fact that I am a woman and I have the period. But I don't think it will be sanitary for me to swim during my period, especially during the cold season," the student wrote, adding she felt forced to swim and became ill because of it. "I understand that some people are stronger than me and they can swim whenever they want. But I can't."
"I want to clarify that I DON'T feel embarrassed. But I do feel a lack of physical strength and cramps when it comes. I think she needs to understand that NOT EVERYONE IS AN ATHLETE!" she wrote.
The complaint is one of 78 filed with the university's bias response team from January 2018 through August 2019. They were recently obtained by The College Fix through an open records law request. The students' identities have been redacted by the university to protect their privacy.
The complaints were filed with the university's "Bias or Discrimination/Harassment" website, run by the school's Office for Equal Opportunity and Civil Rights.
On its "Just Report It" site, university leaders encourage campus community members to report bias or discrimination and harassment complaints based on issues such as color, race, disability, marital status, national and ethnic origin, political affiliation, religion, sex, sexual orientation, gender identity, veteran status, and other themes.
UVA spokesman Brian Coy noted that the school posts a summary of each bias-related incident on its website every year. In an e-mail to The Fix, Coy said the site "makes clear the types of speech that are considered protected under the First Amendment, even if that speech is offensive to some."
The vast majority of the 78 complaints filed — 53 of them — center on an anti-Semitic voicemail received by employees across campus. The robo-call made reference to how Charlottesville's "Jew Mayor" and "Negro police chief" were conspiring against the "poor and innocent" motorist who hit Heather Heyer with his car at the Unite the Right Rally in Charlottesville in 2017. Those complaints were filed in December 2018.
Controversy also made its way to the University of Virginia in December 2019, when controversy erupted on campus after the words "PROTECT BLACK TRANS WOMEN" painted on the Beta Bridge were covered by several spray-painted pro-Second Amendment slogans.
The bridge is a point of contention on campus, as the bias reports obtained by The Fix show.
Three reports were filed over messages painted on the bridge, which the university has called a "place for paintbrush-wielding students to express themselves." Painting messages on the Beta Bridge has become a campus tradition, but the school is learning the modern dangers of having a public bulletin board on college grounds.
In one April 2018 instance, the anti-sexual and domestic violence group Take Back the Night painted the bridge, only to have their message painted over within 12 hours, according to one complaint.
Later that month, Jewish community members gathered on the bridge to promote their upcoming IsraelFest event, only to see the messages they painted covered by messages saying "Free Palestine" and "Support BDS."
In August of that year, students with the Transition Scholars Program painted Beta Bridge to celebrate their finishing the program. They painted the words "TRANSITION @ UVA 2018," yet sometime overnight, someone smeared black paint over the "TRANS" portion.
"Pretty clearly trying to make an anti-transgender statement," the complaining student wrote.
Coy noted to The Fix that the bridge isn't actually on university property, but called it a "classic open public forum."
"Messages are chosen by members of the community and are not subject to University approval or supervision," said Coy, adding,  "Long-serving officials I asked were not aware of us having taken disciplinary action against any student for a posting on Beta Bridge."
Other complaints filed with the Just Report It website included:
A group on campus was accused of collecting petition signatures in support of "women's rights," when instead, the petition was to remove a statue of the university's founder, Thomas Jefferson.

An equality sticker was removed from a student's car.

A male student calling to schedule a doctor's appointment for a urinary tract infection was told he could not get an appointment, as the operator told him they only see females for this ailment, as "the clinic does not have the diagnostic tools/equipment to evaluate and treat this for males." The student demanded "equal access to UVA resources despite gender, and have the same health accesses for ailments, as there aren't any basic diagnostics performed for UTI on females that are different for males and vice versa."

A student noticed an elderly man on a bus taking pictures of a college-aged woman sitting in the row across from him.

A student found a small Shadow the Hedgehog doll hanging from a noose outside of Brown College.

When a student saw several cheap laptops on sale on Facebook, he asked some questions of the person selling them. "He was selling three laptops for very cheap prices with one of the three being only 200 dollars. I wanted to make sure he was the proper owner so I questioned him a bit, to which he hurled racial derogatory remarks against me."

While eating lunch and reading a book at Aldeman library, a man approached a woman, got uncomfortably close, and asked "Why are you so serious?" and told her she should smile more. When she told him to stop, "he walked away in a huff and although I'm not 100% sure what was said I heard some muttering that sounded like 'bitch."

I feel like now I can no longer enjoy reading or coming to Alderman on my lunch breaks," she reported.
UPDATE: This article has been amended to add in a statement from the university.
MORE: U. Virginia 'disorientation' event teaches new students about college's 'brutal, unjust legacy'
IMAGE: Shutterstock.com
Like The College Fix on Facebook / Follow us on Twitter