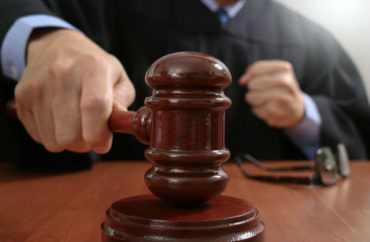 Accused of 'recruiting' her to accuse student that Syracuse wanted to punish
Not only does Syracuse University break its contractual promises to students with impunity, but it designs Title IX procedures so poorly that alleged victims of sexual misconduct may find their privacy violated in ensuing lawsuits.
A federal judge hearing an accused student's Title IX lawsuit against the private university ordered it to hand over records from the accuser's advisor in the Title IX proceeding, who also served as her campus therapist, to "John Doe" and his lawyer.
It's at least the second setback for Syracuse in the lawsuit: Another judge said John had plausibly alleged the university deployed a "result-driven" process to find him guilty.
Tekhara Watson (below, top) advised "RP," the accuser, regarding her "reporting options, procedures relating to Title IX disciplinary proceedings, and the hearings and appeals that resulted in" the expulsion of the John, U.S. Magistrate Judge Andrew Baxter wrote in a short decision and order last week.
A month earlier he had ordered the Counseling Center and Watson to turn over her communications with RP about the sexual misconduct allegations, which John had requested, for Baxter's own review in chambers.
Now that he's done that, Baxter has determined that John is "entitled to review select portions of the documents authored by Ms. Watson regarding her communications with RP."
The judge scolded the university for arguing "in a vacuum" that Watson's records would "likely include confidential mental health treatment records" barred from release by state law. Syracuse further claimed without evidence that disclosing Watson's records "would deter future victims from reporting sexual abuse to relevant authorities." (Baxter expressed annoyance with the university for challenging his prior ruling, which he rescinded, that university counsel should first review the records at issue.)
MORE: Syracuse may have ignored its own evidence standard to find John guilty
Baxter noted that John's counsel specifically said he didn't want RP's therapy records, but only the therapist's records related to "support and advocacy for RP" in the Title IX proceeding.
John had accused the Counseling Center of "recruiting or influencing" RP to initiate the proceedings against him after she declined to continue with a campus police complaint. He believes Watson's records are "highly relevant" to his gender-bias claims.
The judge agreed that Syracuse created the privacy problem itself by commingling the "therapeutic role of counselors" with "the procedural role of advisors":
I have confirmed, from my in camera review of the records, that Ms. Watson both served as a therapist to RP and provided her with information about her reporting options and the relevant procedures for Title IX disciplinary hearings and appeals. While the opposing parties will undoubtedly "spin" Ms. Watson's advice differently, her written notes reflect that she repeatedly discussed, with RP, pursuing Syracuse University's Title IX disciplinary proceedings, even though RP initially decided only to report the alleged sexual misconduct to the police, and then later decided not to pursue criminal charges.
While "[p]ortions" of Watson's notes are relevant to John's claims and should be shared, because "the interests of justice substantially outweigh the need for confidentiality," Baxter said he "stringently redacted" the records to remove the "more extensive portions" that constitute therapy or treatment.
He reminded Syracuse that John and RP's interactions are already public record due to the lawsuit and U.S. District Judge Brenda Sannes's prior order, yet both students remain anonymous and Watson's records are subject to the existing protective order.
Because of Syracuse's refusal to review the sought records first, Baxter is turning over the redacted records to the Counseling Center and Watson. "Presumably" they will share those records with Syracuse counsel or another lawyer, to decide whether to appeal.
If they don't appeal within two weeks, "all parties" will receive the redacted records.
MORE: Judge faults Syracuse for ignoring myriad problems with accuser's claims
The Foundation for Individual Rights in Education rebuked Inside Higher Ed for falsely portraying Baxter's order as breaking new ground and emphasizing concerns that the order could chill reports of sexual misconduct.
The judge's order is "particular to the unique structure of Syracuse's campus judicial system," which the university admittedly "intertwined" with its therapy services, wrote Samantha Harris, vice president for procedural advocacy:
Were that not the case, Doe and his attorneys would not have been seeking her records. They have made clear throughout that they are "not asking for [the complainant's] psychiatric or therapy records," but rather are seeking information about whether, in her role as the complainant's advisor in the disciplinary process, Watson may have "recruited the Complainant" to bring a Title IX action after she "had already expressed her wish not to pursue action against John Doe. "
Even if Syracuse didn't let campus therapists also represent accusers, New York's Mental Hygiene Law may have let John obtain parts of RP's therapy records under the exception for "the interests of justice" that Baxter mentioned, Harris continued:
Discovery is critical for accused students seeking to prove that their university was impermissibly biased against them in campus disciplinary proceedings. As judges have noted in the past, virtually all of the information necessary to prove such a claim — training materials, email correspondence, and other records — is in the sole possession of the university, which rarely if ever will turn documents over voluntarily.
The order was not "broad" as falsely portrayed by Inside Higher Ed and accusers rights organizations. It was about as narrow as it could have been, Harris said, based on Syracuse's "intertwined" roles for therapists and Baxter's in-chambers review of the records, which Syracuse itself refused to touch.
Read the ruling, Harris's analysis and Inside Higher Ed spin.
MORE: Judge lets Syracuse violate its free speech promises to students
IMAGE: everything possible / Shutterstock.com
Like The College Fix on Facebook / Follow us on Twitter