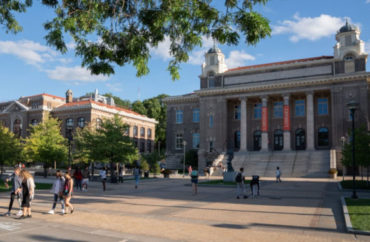 Mark Lodato, the dean of Syracuse University's Newhouse School of Public Communications, apologized on Thursday for an email in which he referred to Tibet as a country separate from China.
On January 31, in an attempt to promote Syracuse's multiculturalism, Lodato sent an email to students and faculty within his department celebrating the Lunar New Year. "Lunar New Year is celebrated by billions around the world, including those in China, Hong Kong, South Korea, Tibet, Vietnam, Singapore, Indonesia, Malaysia, among others, and of course thousands of members of our Syracuse University and Newhouse families," Lodato wrote.
Soon, Lodato was being criticized in Instagram posts by Chinese nationals and alumni. Lodato was further condemned for treating the Chinese New Year and the Lunar New Year as interchangeable.
"It is very important to me—in fact, one of my top priorities as dean—that the Newhouse School is an inclusive, welcoming and comfortable place for everyone," Lodato said in his apology statement. "Unfortunately, for some in our community, my message had the opposite effect. By including Hong Kong and Tibet alongside China in a list of countries, I implied that they are not part of China; however, I know that is incorrect. It was a mistake to present the list that way, and I apologize."
Tibet has been fighting for its independence from China for centuries. The country has spent some periods functioning as an independent nation and others ruled by powerful Chinese and Mongolian dynasties. In the 1950s, China sent thousands of troops to Tibet to claim the region as its own. The issue of Tibetan independence has been championed by many of America's biggest celebrities, largely at the behest of the Dalai Lama.
The Syracuse apology mirrors an incident from just last week in which Duke University's School of Engineering was accused of apologizing for assuming Tibetan independence.
On Jan. 27, director of We the Hongkongers and pro-democracy activist Frances Hui tweeted a screenshot purportedly from the diversity department of Duke's Pratt School of Engineering. In the email, the school apologized for a previous email announcing "Lunar New Year Paint Night" that categorized Tibet as an independent country.
"Not only have they mistaken the Lunar New Year as celebrated by Tibetans, they also force an incorrect claim that Tibet is part of China," Hui told The College Fix. "Tibet is never a part of China. Rather, Tibetans have faced a long history of violent and illegal occupation of their land by the Chinese Community Party. China is committing a cultural genocide against Tibetans and Uyghurs. Duke's statement is simply hurting the Tibetan community and other impacted communities who are still under the oppression of the CCP."
Nonetheless, Lodato felt he needed to apologize.
"Some students have reached out to me and I have met with some of them individually," he said in his statement. "I appreciate the opportunity to hear directly from them and any student who shares the same concern about my message. I always want to learn from students' input and insights. If any student still wants to discuss the message, or anything else about making Newhouse an inclusive place for all, my door is always open. It is important for me to be exposed to multiple perspectives, and to continuously expand my knowledge as I work to be the best dean I can be for the Newhouse School."
Read more here.
MORE: Syracuse U. professor: 9/11 was an 'attack on the heteropatriarchal capitalistic systems'
IMAGE: Syracuse University
Like The College Fix on Facebook / Follow us on Twitter