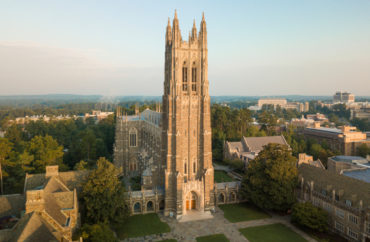 If Duke University's engineering department emailed an apology to students and faculty for calling Tibet a country separate from China, it isn't admitting to it.
On January 27, director of We the Hongkongers and pro-democracy activist Frances Hui tweeted a screenshot purportedly from the diversity department of Duke's Pratt School of Engineering. In the email, the school apologizes for a previous email announcing "Lunar New Year Paint Night" that categorized Tibet as an independent country.
"It has been brought to my attention that the language below written in the announcement for the Lunar New Year Paint Night was an incorrect and insensitive statement to the Chinese community and the government of China," the email reads.
I am not sure which one is more incorrect & insensitive─ succumbing to a racist, genocidal regime, named the #CCP, or not educating yourself abt #Tibet & #China before you write to a student community that "Tibet is a part of China." @DukeEngineering @DukeU, shame on you. pic.twitter.com/SmRe1qsw3k

— Frances Hui 許穎婷 #NoBeijing2022 (@frances_hui) January 28, 2022
The email quotes the original email, which said, "The Lunar New Year is a collection of holidays celebrated in culturally unique ways throughout Vietnam, Korea, China, and Tibet."
"Tibet is a part of China and not a separate country," the apology email states. I apologize for the oversight, my intention was to relay that Lunar New Year is celebrated differently by separate areas of Asia. Please forgive my ignorance and thank you to those who contacted me about correcting my knowledge. I promise to continue to learn and grown [sic] as I continue in this role."
The screen shot is truncated and no sender is visible. Karis Boyd-Sinkler, the director of Diversity, Equity and Inclusion in Engineering, did not respond to multiple emails by The College Fix asking for comment
"I am not sure which one is more incorrect & insensitive─ succumbing to a racist, genocidal regime, named the #CCP, or not educating yourself abt #Tibet & #China before you write to a student community that 'Tibet is a part of China,'" Hui wrote. "@DukeEngineering @DukeU, shame on you," she said.
Hui also noted that Tibet celebrates their new year, Losar, not the Lunar New Year. "Thank me later for 'correcting your knowledge,'" she wrote.
Tibetan Losar is celebrated on March 3.
Hui told The College Fix she received the email from a Tibetan student at Duke.
"This has happened in a lot of universities around the world of which teachers and administrators have to apologize for making statements that the Chinese community does not like, simply because they are offended by the opposition voice of the one China principle," Hui told The Fix in an email Wednesday. "Most of the time, universities would apologize because they don't want to sacrifice the Chinese majority student population and the big amount of tuition. In some cases, they have partnership with China or Chinese universities that they fear of harming, which explains why most of time they would compromise," said Hui.
The Fix also made several attempts to contact spokespeople for both Duke and the Pratt School of Engineering to confirm the veracity of the email. No inquiries were returned.
Hui's tweet comes at the same time schools across America are being criticized for capitulating to the demands of the Chinese government, which recently passed a law allowing the arrest of pro-Hong Kong democracy activists in foreign countries.
In November, for instance, Emerson College suspended a conservative group for handing out stickers critical of the Chinese Communist Party. The school later ruled the "China Kinda Sus" stickers — slang for "China is suspicious" — violated their bias policy.
In addition, the school blocked Twitter users for posting pictures of Winnie the Pooh on its social media feeds. Pro-democracy activists had used images of Pooh to mock Chinese President Xi Jinping, saying he looked like the cartoon bear.
Duke itself is inextricably linked to China through its partnership with a campus in Kunshan, China. Duke Kunshan, created in 2013, is a joint campus between Duke and Wuhan University.
Rachelle Peterson, policy director at the National Association of Scholars, told The College Fix last year that American universities "give up autonomy and institutional integrity when operating branch campuses in China."
"In exchange for generous funding from the Chinese government, they accede to improper Chinese government regulations, censored internet access, serious impediments to academic freedom, and the threat of stolen research and intellectual property," Peterson said.
Tibet has been fighting for its independence from China for centuries. The country has spent some periods functioning as an independent nation and others ruled by powerful Chinese and Mongolian dynasties. In the 1950s, China sent thousands of troops to Tibet to claim the region as its own.
In 2008, Duke student Grace Wang attempted to mediate a protest over Tibetan independence on the school's campus. Wang was then threatened by pro-Beijing students and her parents were forced into hiding after also receiving threats.
At the time, Wang said she wasn't for or against Tibetan independence, but she was concerned when she saw a crowd of 400 to 500 Chinese citizens squaring off against a group of 12 pro-TIbet demonstrators.
She was later branded a "traitor" on internet message boards. "I was very shocked," she said. "I almost had a heart attack."
The issue of Tibetan independence has been championed by many of America's biggest celebrities, largely at the behest of the Dalai Lama.
Hui said she thought the apology statement that was sent to the Pratt community was "rather insensitive" and "disrespectful to the Tibetan community."
"Not only they have mistaken the Lunar New Year as celebrated by Tibetans, they also force an incorrect claim that Tibet is part of China," she said. "Tibet is never a part of China. Rather, Tibetans have faced a long history of violent and illegal occupation of their land by the Chinese Community Party. China is committing a cultural genocide against Tibetans and Uyghurs. Duke's statement is simply hurting the Tibetan community and other impacted communities who are still under the oppression of the CCP."
MORE: College rules conservative group's 'China Kinda Sus' stickers violated bias policy
IMAGE: Duke University
Like The College Fix on Facebook / Follow us on Twitter