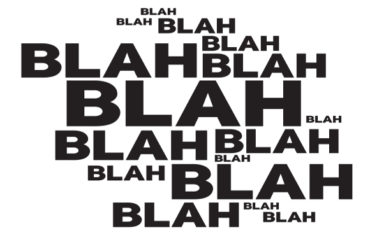 A Syracuse University political science professor used the 20th anniversary of the September 11 terrorist attacks to tell us that day's violence was all about destroying the "heteropatriarchal capitalistic systems" upon which the United States relies.
In a now-private Twitter thread, Jenn M. Jackson wrote "We have to be more honest" about what 9/11 was really about. "It was an attack on the systems many white Americans fight to protect.
"We have to be clear that the same motivations that animated America's hypervigilance and responsiveness to 'terror' after 9/11 are now motivating the carceral state and anti-immigration policy."
Jackson, whose Twitter profile says "Genderflux all pronouns," is a columnist at Teen Vogue and was "Oakland raised" on "Onondaga Land," also tweeted she is "really disturbed by how many white pundits and correspondents talk about [9/11]."
"White Americans might not have really felt true fear before 9/11 because they never felt what it meant to be accessible, vulnerable, and on the receiving side of military violence at home. But, white Americans' experiences are not a stand-in for 'America,'" Jackson wrote.
MORE: Prof: Avoid topic of Muslim terrorism in 9/11 anniversary lessons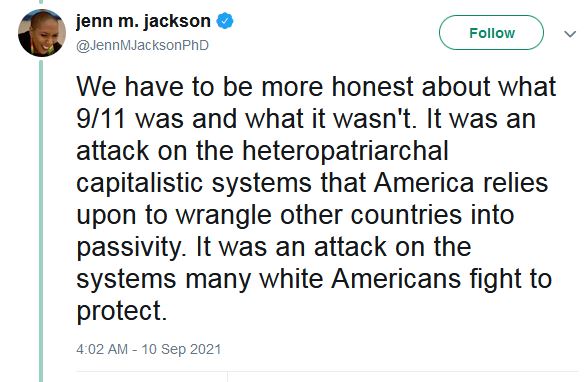 According to her personal website, Jackson (below, left) uses "they/them" pronouns (but her — their? — faculty page says "she/they") and is/are a "queer genderflux androgynous Black woman, an abolitionist, [and] a lover of all Black people." They are a "highly sought after writer for many online publications like Truth Out, Al Jazeera, Washington Post [and] The Lily."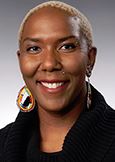 The professor's academic specializations include "Black Politics, Gender and Sexuality, Political Behavior, Public Opinion [and] Social Movements," and they teach the courses "Gender and Politics" and "Black Feminist Politics."
Some of the reactions to Jackson's Twitter thread include:
— "oh yes, the people behind 9/11 are known for their liberal views and dismantling of heteropatriarchal systems. just ask all the girls who want to go to school or drive over there."
— "The Muslims who perpetrated the attack DONT want a heteropatriarchal society??
— "Yes, Al Qaeda is well known for it's feminist and pro-LGBTQ+ activism."
— "20 years on and all you can muster are '9/11 was woke' takes."
MORE: What September 11 changed for the kids these days
IMAGES: Nikita Konashenkov / Shutterstock.com; Twitter screencap; Syracuse University screencap
Like The College Fix on Facebook / Follow us on Twitter