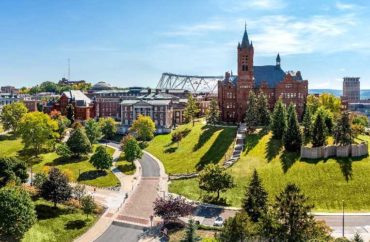 University reports there has been no uptick in 'symptomatic illness'
Syracuse University recently reinstated a universal mask mandate during academic instruction for students, faculty and staff.
Starting today, the university shifted to a "blue" rating, requiring students, faculty and staff, regardless of vaccination status, to wear masks at all times during academic instruction and "during non-academic events and in certain facilities." Unvaccinated students are required to wear masks in groups indoors and outdoors.
"We have experienced an increase in new cases and test positivity on campus over the past 10 days," Vice Chancellor Michael Haynie wrote in a statement. "Given the high vaccination rate among our campus community, the most recent uptick of new cases on campus has not resulted in heightened levels of symptomatic illness among students, staff and faculty.
"That said, given that New York State public health law mandates a five-day isolation period for those who test positive, the surge in new cases and associated class absences has increasingly disrupted the academic experience," Haynie stated.
Prior to Monday, Syracuse had a "yellow" rating, requiring that individuals who have chosen not to take the COVID vaccines wear masks indoors and outdoors when in groups.
University officials recommended that vaccinated individuals wear masks indoors and outdoors in groups as well, but did not require it.
MORE: I'm required to mask alone despite 17 negative tests in a row
The university stated in an April 1 email that its cases were low, yet it continued to consider itself in the "yellow" category.
"Based on our most recent testing and case data, our campus community is not experiencing the same surge in transmission and new cases that are being reported elsewhere in [Onondaga County]," the mask update said. "The University's random surveillance test positivity rate for the most recent seven-day period was 1.2%, as compared to 9% in Onondaga County over the same period."
"As always, we will continue to monitor public health conditions," Vice Chancellor Haynie wrote in his message to the university community.
The university's level had been set to "yellow" since March 14, after the university announced the changes on March 8. Prior to March 8, the university's framework level had been sent to "blue."
The email from Haynie said the campus guidelines had shifted to require masks for the unvaccinated and recommend them for the vaccinated. The emails noted the decrease in new cases but did not identify a standard or reveal whether a benchmark had been met.
That update also shared the success of policies in keeping COVID spread low.
"Vaccination and booster policy compliance rates are extremely high—for students, 98%, for faculty, 100% and for staff, 99%," the university's March 8 update stated. "The number of COVID hospitalizations in Onondaga County has dropped to its lowest number since September 2021."
The College Fix reached out to Haynie for comment on the police and the state's guidelines, but did not receive answers.
The Fix also reached out to Syracuse Chief Medical Officer Karen Nardella, Director of Health Kathleen Coughlin and Syracuse Director of COVID Response and Testing Operations ​​Adam Florkowski. Each directed queries to an online media form, but there has not been a response since the questions were submitted over a month ago.
The Fix also emailed eight epidemiology professors at various New York universities to ask what COVID restrictions they'd consider appropriate for a university setting but none responded.
MORE: Georgetown students protest as mask mandate reinstated despite no severe cases
IMAGE: Syracuse University/Twitter
Like The College Fix on Facebook / Follow us on Twitter