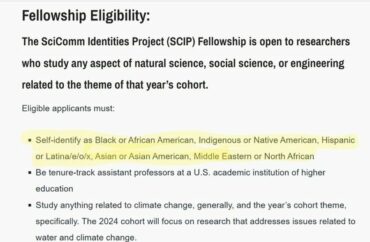 Legal group calls fellowship a 'blatant violation' of federal law
White faculty are excluded from a National Science Foundation-funded "inclusive science" fellowship, in what one legal group calls a "blatant violation" of federal law.
The "Inclusive Science Communication Fellowship" is "supported by a $2.8 million collaborative National Science Foundation grant" and run by the University of Rhode Island Metcalf Institute, Michigan State University's Knight Center for Environmental Journalism and the University of Rhode Island Science and Story Lab.
The fellowship "will address a significant gap in science communication research and training by centering the motivations, experiences, and priorities of racial and ethnic minority scientists," according to its description.
A requirement is that applicants "[s]elf-identify as Black or African American, Indigenous or Native American, Hispanic or Latina/e/o/x, Asian or Asian American, Middle Eastern or North African."
This raises legal issues according to the Foundation Against Intolerance and Racism.
"Barring application based on race, skin color, or national origin is a blatant violation of Title VI of the Civil Rights Act," Leigh Ann O'Neill, managing director of legal advocacy, told The College Fix via a media statement.
"We are very disheartened to see the eligibility requirements for the upcoming SciComm Identities Project," O'Neill said.
"Title VI of the Civil Rights Act prohibits Federally-funded programs from discriminating against individuals on the basis of race, skin color, and national origin – precisely what the SciComm program openly admits to doing," she said.
While the group "enthusiastically support[s] efforts to ensure greater diversity and inclusion in every professional field," this "must be done by legal means."
The Fix asked the National Science Foundation if an attorney had reviewed the program to ensure compliance with the Civil Rights Act of 1964 and why white faculty were excluded. The spokesperson ignored those questions.
"As a federal leader in STEM education and workforce development, NSF has a long history of support for STEM education and continues to pioneer new programs and science-based approaches to broaden participation," the spokesperson told The Fix. "Through strategic partnerships and investments across the agency, it has long supported research to reach groups historically underrepresented in STEM."
MORE: Arizona public universities drop DEI statements from job openings
The spokesperson said the project comes from the "NSF Directorate for STEM Education" which "seeks to support innovative research projects that further the understanding of how to best increase the STEM knowledge, practice, infrastructure, and professional capacity of people participating in informal STEM learning settings."
The Fix emailed Eric Freedman, the director of MSU's Knight Center and Katharine McDuffie, the fellowship manager for the University of Rhode Island, with similar questions about the legality and why white professors are excluded. Neither responded to two media inquiries during the week of July 31.
In addition to not being white, the program has other requirements, such as an academic interest in "anything related to climate change."
The application also asks specific questions about "identities."
"How do your identities affect or influence your academic work?" the application asks. "This may relate to your scholarship, teaching, and/or science communication practices outside of the classroom."
The application also asks faculty to write in their gender and any disabilities they have.
"Please feel free to share any other aspects of your identity," the last question states.
MORE: Former U. Vermont diversity guru rips 'whiteness' of hospital system
IMAGE: SciCommIdentities.org
Like The College Fix on Facebook / Follow us on Twitter