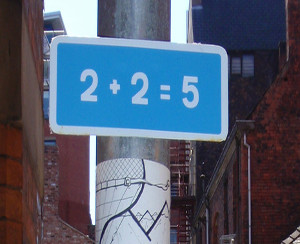 Who knew? Who knew that math … excluded so many? For, according to the Teach For America website, "math has traditionally been seen as the domain of old, White men."
Hmm. I wonder how the Mayans, then, managed to create their exquisitely accurate calendar long before the rapacious Caucasian came ashore?
Just don't bring up such … "uncomfortable" questions to those who believe the "OWM" (Old White Men) theory of math. Sure, it'll make them squirm a bit, but you'll most likely be subjected to a litany of the usual PC nonsense, notably that you're exercising your "white privilege."
But I digress. EAG news.org reports:
Judging from the math curriculum recommended, this TFA group, like all other social justice educators, wants minorities to believe that what relates most to their lives in America is racism and oppression.

For example, the site recommends "Critically Conscious Mathematics" and "Radical Math."

Radical Math was created by educator Jonathan Osler several years ago while teaching at El Puenta Academy in New Jersey. Osler taught Radical Math along-side Cathy Wilkerson, a former member of the Weather Underground Organization (with Bill Ayers) who once participated in a plot to detonate a nail bomb at a dance for military personnel at Fort Dix.

Radical Math provides hundreds of social justice math lessons obviously meant to indoctrinate. For example, lesson titles include "Sweatshop Accounting," "Racism and Stop and Frisk," "When Equal Isn't Fair," "The Square Root of a Fair Share" and "Home Buying While Brown or Black."
TFA also includes "culturally responsive" anecdotes such as the following "to suggest that the idea that math is neutral, rational, and logical is a myth and the premise that 2 + 2 = 4 is 'naive'":
… a European explorer (presumably Francis Galton, the man who invented eugenics) agrees to trade an African shepherd two sticks of tobacco in exchange for one sheep. When he offers four sticks of tobacco in exchange for two sheep, however, the shepherd declines; the explorer later tells this story as evidence of the shepherd's inability to comprehend simple mathematical reasoning and as "proof" of intellectual inferiority on the African subcontinent. But, if sheep are not standardized units, as there is no reason to believe them to be, then doesn't it make sense that the second sheep might be worth far more than the first? And then doesn't our premise of 2 + 2 = 4 look awfully naive?
I cannot think of a better way to keep minorities ignorant of mathematics than by turning the subject into yet another showcase for historical grievances. After all, these students/soon-to-be real world participants won't be able to make change at the store, or prepare the EZ federal tax form, but they will know that Christopher Columbus initiated a genocide against the native peoples of the Americas …
… many of whom, it just so happens, were pretty good at math.
Dave Huber is an assistant editor of The College Fix. Follow him on Twitter @ColossusRhodey.
Like The College Fix on Facebook / Follow us on Twitter
IMAGE: sheila blige/Flickr