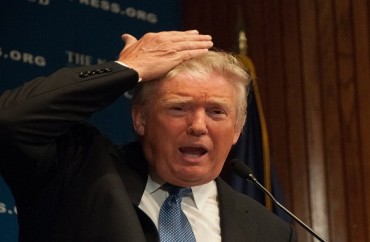 A California high school student was told by his teacher he'd be kicked out of his virtual chemistry class if he did not remove a Trump banner on the wall of his bedroom.
According to CBS Sacramento, the mother of the Colusa High School student said her son has had the flag/banner up since the beginning of the (virtual) school year.
But the chemistry teacher, a rookie according to the mom, made a "mistake" by giving the boy an ultimatum to remove the banner or to reposition his computer camera. "There hasn't been any guidance given to her as a teacher for the school," the mom said.
The boy did not comply with the teacher's demand, instead opting to exit the class.
[The mom] Tiffany and her son, whom she did not want to be named, blame the school board who they addressed Monday evening. They asked that the board clarify the code of conduct for virtual learning.

"And he flat out told me no. We've just not been given any guidance," Tiffany said.

The Colusa County Code of Conduct includes a dress code that bans clothes with alcohol or drug symbols, sexual messages, profanity, or clothing that degrades any race, but nowhere in the 38-page document does it mention politics, elections, or campaigning.

"We don't know if we're supposed to be following the on-campus handbook or a new handbook that's addressing the distance learning issues," she said.

Her son told the school board Monday evening that he now feels uncomfortable returning to his chemistry class after this situation transpired.
In a nutshell, the teacher screwed up. If classes were being held in-person, the boy would have every right to wear a Trump shirt to class and no teacher could demand he leave — even if they were offended to the Nth degree.
MORE: HS teacher allegedly fired for tweeting 'Trump is our president'
MORE: Teacher accused of distributing anti-Trump, anti-GOP fliers in school
IMAGE: Shutterstock.com
Like The College Fix on Facebook / Follow us on Twitter