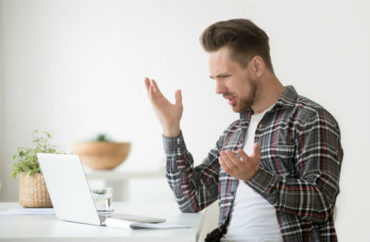 An eighth-grade teacher's aide in Maryland recently was caught masturbating on camera during a virtual lesson.
Marc Schack, a special education assistant at Shady Grove Middle School in the Montgomery County Public Schools, said he thought he had logged out of Zoom when the class ended.
"I had no clue that Zoom was still on," Schack told Bethesda Magazine. "Why would I do that? That's my job. My career. I had no clue that Zoom was on. I mean, that's just crazy behavior."
According to the report, a 13-second clip from February 15 shows Schack glancing at his computer screen, then standing up to engage in Jeffrey Toobin-style online behavior.
"It was just a mistake on my part," the 21-year district veteran said. "I'm only human. It was my bad […] I'm not a pervert or anything like that, you know."
Schack wasn't even aware of the incident until two days after the fact; the district contacted him to let him know he was on administrative leave. The district also said it had "misplaced his background check file" which led Schack to wonder if they were looking into any past criminal behavior.
MORE: Prof defends Jeffrey Toobin in wake of Zoom masturbation scandal
School district officials have let the community know that something inappropriate happened, and it was recorded and shared, but have not been specific.

In a message to community members on Tuesday, Shady Grove Principal Alana Murray wrote that, during an eighth-grade class, an employee was "seen on screen in a breakout room engaged in inappropriate behavior."

MCPS spokeswoman Gboyinde Onijala told Bethesda Beat in a text message on Tuesday night — before Schack was interviewed and confirmed what happened — that the "behavior was sexual in nature." …

The incident was recorded and posted on social media, according to Murray's message.

Police were notified and the incident is under investigation, the message said.

In the community message, Murray asked any students who recorded the incident and posted it on social media to delete it and "refrain from sharing with other students."
According to the New York Post, Schack runs a business called "Pirate Magic" which throws pirate-themed parties for kids. Schack plays a character called "Captain Silly Bones."
MORE: Gov. website offers 10-year-old girls tips on 'mutual masturbation'
IMAGE: fizkes / Shutterstock.com
Like The College Fix on Facebook / Follow us on Twitter