Chances are you haven't seen the best and most realistic film about teaching to date … perhaps because it's 38 years old.
Teachers from 1984 doesn't pull any punches, doesn't beat around the bush, and via former "Soap" star Richard Mulligan sends the clear message that, if you plan to be a teacher in an American public school, you'd better have a little screw loose (in a good way).
Teachers' JFK High School is set in ethnically diverse urban Columbus, Ohio. Nick Nolte plays history teacher Alex Jurel who's already burned out after just 15 years in the classroom. His buddy, Roger Rubell (Judd Hirsch) is now an assistant principal who's dealing with a lawsuit against the district: A JFK graduate is suing the district because he was given a diploma … despite not being able to read.
It's easy to figure why Nolte is so spent right from the onset of the story — JFK's main office is a madhouse in the morning as teachers and administrators scramble to deal with minutiae of their jobs and student concerns.
What I like best about Nolte's Jurel is how he takes it day-by-day; one day his classroom heater is broken so he pulls out a bag of tools and tells the class "Today we're going to enter the fascinating world of radiator repair!" On another, he scraps his lesson plan and lets his kids take the lead on a discussion about whether attendance at JFK is really worth it. Any good teacher will do what is necessary in class (like fixing the heater) or to keep the kids' interest (relevant current topic), and Jurel is a natural. This is why his students love him.
MORE: Best college movies for College Fixers
I can't even count the amount if times my classes and I had to take a "break" from a lesson due to a bee flying around the class, or a spider walking on the floor, or a custodian cutting the grass right outside (with the class windows wide open during the days before the school had air conditioning). What teacher hasn't ditched a lesson plan when a student brings up a relevant-but-not-relevant-to-the-lesson topic for debate or discussion?
On the other hand there's Carl Rosenberg, upon whose first appearance you'll figure out he's going to get eaten up by his charges. Indeed, Crispin Glover's (Back to the Future) Danny takes this to the Nth degree by biting Rosenberg's hand while the teacher is roaming the room proctoring an exam (see above clip). The poor teacher later falls victim to pranks including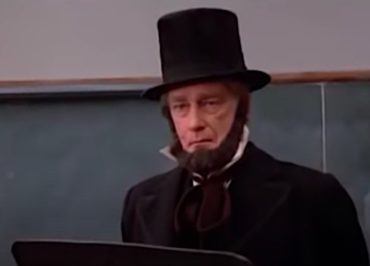 stealing his classroom desk … and later his car.
The film also features "Ditto," the teacher who never teaches. He just hands out, well, dittoes for his kids to work on all period while he sits there and reads the newspaper. Thankfully, I only ever had one teacher like that, in tenth-grade history. In fact, that was the only class in which I ever fell asleep, and I'm a guy who has trouble sleeping anywhere but in my own bed.
But it's Mulligan's Herbert Gower (pictured) who steals the show. He's literally a mental patient who happens to pass by a substitute teacher's open apartment while JFK is calling for a gig. Gower answers this call and promptly reports for duty as a history substitute. He's an immediate hit with the kids as he chucks his teacher's edition textbook out the window and teaches lessons by dressing up as historical characters — and getting the students involved in skit performances.
Although some critics panned the film (CBS's Pat Collins called Teachers "absolutely the worst 'high school is a jungle' movie to come down the locker line corridor in a long time") those actually familiar with the ins and outs of the profession feel differently. A commenter to IMDB wrote "While the story takes some liberties with realism this is actually a very good film. As a 25 year teacher I can honestly say that what may have appeared outrageous in 1984 is pretty close to reality today."
Teachers also stars Ralph Macchio (The Karate Kid), Laura Dern (Jurassic Park), JoBeth Williams (Poltergeist) and a young Morgan Freeman.
MORE: Self-righteous teachers are not gods. It's YOUR job to remind them.
IMAGE: Chris Rowley, Tanya Fortenberry/YouTube screencaps
Like The College Fix on Facebook / Follow us on Twitter