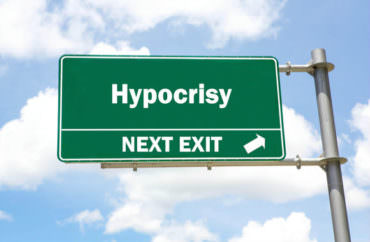 The now-former head of a Massachusetts teachers union was rather vocal about her district staying closed due to COVID-19 concerns, yet has a son enrolled in a private parochial school with in-person learning.
According to TB Daily News, the Leominster Education Association had voted "no confidence" in Massachusetts Education Commissioner Jeffrey Riley last month after he demanded to know why the Leominster Public Schools (and other districts) remained in all-virtual learning.
Leominster was the first in the state to back out of in-person instruction last year, although certain groups (like vocational and special education) did return here and there beginning in late September through November.
In an email, then-LEA President Leah Burns wrote that Riley and the Massachusetts Department of Elementary and Secondary Education
— have failed to sufficiently consider input from individual districts,

— continue to ignore the ever-growing body of scientific evidence showing the direct correlation between in-person learning and the increased transmission rates of Covid-19 in a community, and

— do not demonstrate the depth of understanding nor the impartial judgement needed to support students, faculty, and families.
"Since our working conditions are the students' learning conditions, we as educators have a responsibility to ensure that our schools are safe," Burns said. "Commissioner Riley and the DESE need to listen more carefully and inclusively to health experts and educators from across the state."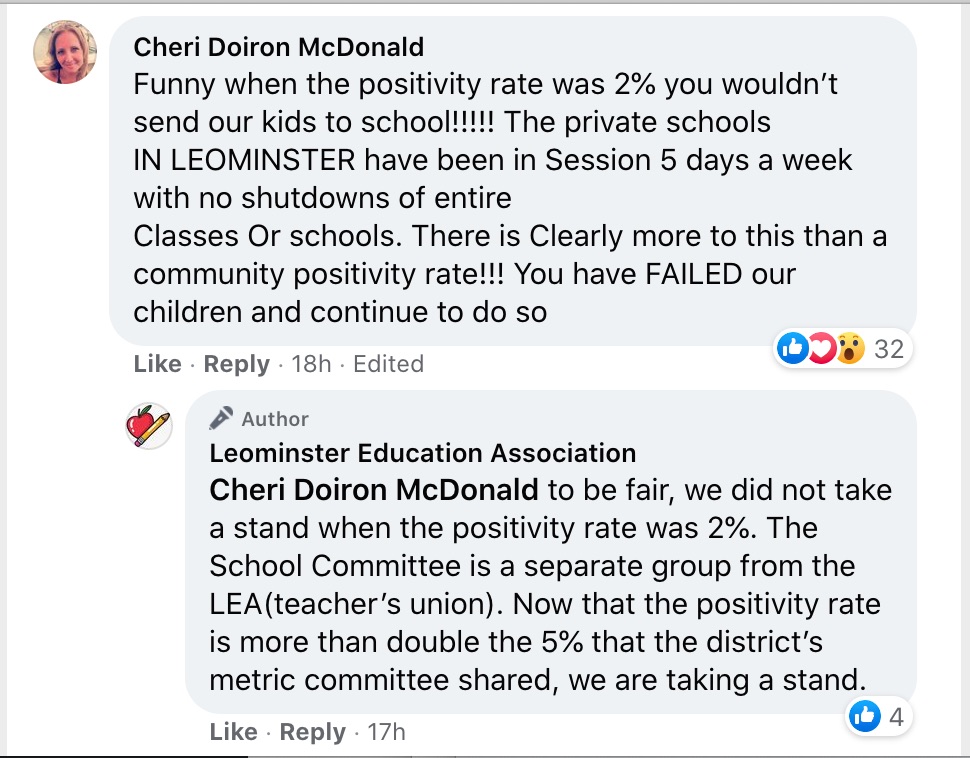 Although Leominster is slated to go to a hybrid model beginning January 25, the LEA complained in a since-deleted social media post that "there is a high rate of COVID spread in Leominster that is well documented and alarming." It emphasized (all caps in the original) that it's best for the district "TO REMAIN ON FULL REMOTE."
But a legitimate question is, if in-person instruction truly is as alarming as the union says, why would Burns enroll her child in a private school … which has been open since the beginning of the school year?
The union's Facebook and Twitter accounts now appear to be moribund since 2017. In response to a query by The College Fix, the Daily News indicated the accounts must have been scrubbed up until that point following publication of its story. It pointed to a screencap taken from the LEA Facebook page the same day as its article (January 13), and from which the quote above comes: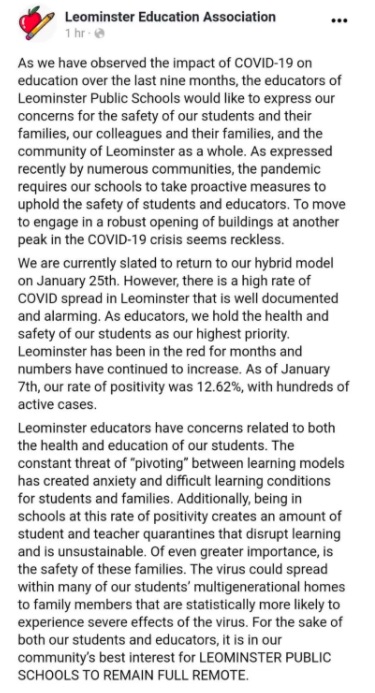 When contacted by The Fix, Burns refused comment except to say she is no longer LEA president. She did not respond when asked if she had resigned.
In addition to the Burns/union situation, following Leominster Superintendent Paula Deacon's announcement that, due to COVID dangers, the district would remain all-virtual through December, she jetted off to Tampa Bay, Florida to attend the Buccaneers' final regular season NFL game.
As the Daily News notes, Deacon couldn't attend an NFL game at the local Foxboro Stadium (home of the Patriots) because it forbids in-person attendance. Florida, on the other hand, is one of the freest states in COVID-era America (whose governor has been criticized in the media for it).
Given the Leominster district's academic statistics, it seems it should place a high priority on getting kids back into its buildings.
MORE: Teachers union bigwig demands schools stay closed … from vacation spot
MORE: Chicago Union wants public schools closed as Catholic schools remain open
IMAGES: northallertonman/Shutterstock; TB Daily News screencaps
Like The College Fix on Facebook / Follow us on Twitter