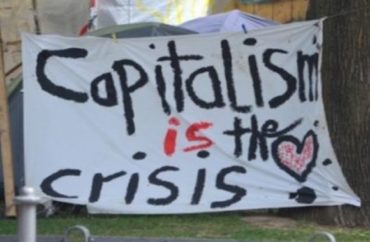 The Colorado branch of the National Education Association recently was offered a resolution which states it believes capitalism "requires exploitation of children [and] public schools."
The original Colorado Education Association resolution, submitted by history teacher Bryan Lindstrom, states that "the only way to fully address systemic racism, climate change, patriarchy, education [and] income inequality is to dismantle capitalism and replace it with a new, equitable economic system."
The final version slightly alters the above to "Capitalism is in opposition to fully addressing systemic racism, climate change, patriarchy, and education [and] income inequality."
The National Education Association is the largest teachers union in the country.
According to The Lion, Lindstrom teaches in the Aurora Public Schools. His Twitter bio indicates he also teaches at the college level, is a "union organizer" and and "education policy expert." He also "Speaks Truth to Power."
Lindstrom's Twitter photo (pictured) shows him in a hoodie with the saying "I'm the teacher Fox News warns you about."
Reached by telephone at the number on his official campaign finance filing for the council race, Lindstrom first confirmed the existence of the resolution and said he would be happy to talk about it outside of working hours.

However, when he was pressed for a good time to talk about the resolution Lindstrom referred all questions to the communications director for the CEA.

"Contact Lauren Stephenson [Communications director for CEA], for an explanation on how resolutions work and further comment on that particular one," Lindstrom wrote in a text message. …

Stephenson claimed the resolution wasn't meant to be "actionable," but rather just reflect the views of the union's 39,000 members.

That probably comes as a big surprise to the majority of teachers in Colorado, who are likely appalled by the actions of the delegates at the CEA assembly.
Workers of the world unite!

Solidarity on May Day ✊🏼

— Bryan Lindstrom (he/him) (@Bryan4Aurora) May 1, 2023
News of the resolution allegedly first came to light via a tweet from fellow Aurora teacher Tim Hernández, who according to The Denver Post claimed he did not have his Denver Public Schools contract renewed last year because he "did not interview well enough."
The same article notes Hernández had been put on administrative leave for the remainder of the school year for leaving his class to protest with students upset at his pending departure.
Hernández is now at Aurora West College Preparatory Academy where he teaches his own curriculum "based on Black and Latino liberation literature and protest movements."
Here's what he tweeted this past Friday, Cinco de Mayo:
You can thank Chicanos for you knowing this date at all. While you drink your sleezy margaritas and butcher your Spanish pickup lines in bars that exploit Mexican workers, remember that this day is only recognized because of working class people who spread anti-imperial history!

— TIM HERNÁNDEZ (@_timhernandez) May 5, 2023
MORE: Virginia teachers union, Democrats oppose teaching about victims of communism
MORE: Teachers union wanted social media companies to censor critical race theory critics
IMAGES: Flickr.com; Bryan Lindstrom/Twitter screencap
Like The College Fix on Facebook / Follow us on Twitter