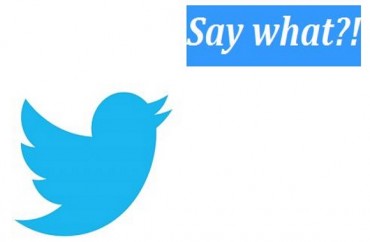 Conservative TCU student Harry Vincent, who's from Baltimore, got into it on Twitter with a liberal from Maryland.
Apparently the liberal, named Kelsey, didn't like what Vincent was tweeting, and soon "urged her followers to contact TCU to complain about Vincent's tweets and 'expose him.'"
Vincent allegedly was "slamming Islam, using a derogatory term for Mexicans and saying 'hoodrat criminals' in Baltimore should be shipped to the Sahara Desert."
The Dallas Morning News reports:
"It was more about political statements than anything else, and it got twisted into race," said his father, Scott Vincent.

He said this could have been a teaching moment for the school and his son. Instead, his son is being pushed out of a place where he felt at home.

"It seems more like policing than educating," Scott Vincent said.

Holly Ellman, a university spokeswoman, declined to say much about the case and explained that "we just don't talk about student matters."

She did point to the school's Code of Student Conduct and said those who do not "live up to these values" can face suspension or expulsion.

"Personal freedom allows a student to voice his opinion about the Baltimore riots," [Harry] said. "Personal freedom allows a student to speak about his opinion on the religion of Islam and ISIS. Personal freedom allows a student to critique the actions of the president of the United States. I'm being punished for exercising my personal freedoms."

Vincent said the university's "heritage of tolerance" should include tolerance of all viewpoints and not just politically correct ones.
TCU is a private institution, and therefore not bound by the First Amendment. Nevertheless, Vincent has the Foundation for Individual Rights in Education in his corner.
"Private universities are not subject to the constraints of the U.S. Constitution," said FIRE's Ari Cohn, a lawyer. "But they are morally obligated to uphold the promises of free speech they make to students."
Although Vincent and his family are considering a lawsuit, former UVA president Robert O'Neil says "It's unlikely that a court would intervene."
Like The College Fix on Facebook / Follow us on Twitter