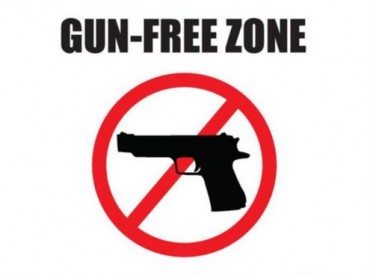 There's a move afoot in Texas academia to neuter a recently passed law and keep guns out of as many places on campus as possible.
The "campus carry" legislation was approved by the Legislature earlier this year, and it gives public institutions until the next academic year to decide which areas of campus (if any) will remain gun-free zones.
Professors in the state are already planning in small and large ways how to kneecap the law regardless of what their administrations decide.
One professor at UT-El Paso, already a vocal blogger against the law, simply posted a gun-free zone in his classroom and became an overnight celebrity, The Chronicle of Higher Education reports:
The minute that the governor signed that legislation, I put up my sign outside the door, and then I moved it inside the classroom, because I don't want guns in my classroom. …

I consider that law, like I said before, one gun too far. Guns belong wherever they belong, but they don't belong in my classroom — or anybody's classroom, for that matter.
Good thing David Smith-Soto is not a Christian baker or county clerk, or he might be in trouble. Nope – UT-Austin faculty are circulating a petition in response to his local TV interview, trying to get 100 profs from every UT campus to join with Smith-Soto and stand against Second Amendment rights on campus.
RELATED: Vince Vaughn defends campus carry, says schools hit because gunmen 'know there are no guns there'
Smith-Soto said he wouldn't serve on his campus's task force to decide which areas will remain gun-free, if asked, because the law is "backwards-thinking":
I don't understand how any particular area of a campus can be gun-free, and not the entire campus.
Meanwhile, KXAN-TV reports on those UT-Austin professors and their campaign to castigate concealed-carry holders – as opposed to people with illegal guns – as lunatics:
"People need to be able to disagree, dissent, present controversial opinions in a classroom, without fear of a weapon without any reason of being there," said Ellen Spiro, from the Radio-Television-Film Department.
RELATED: Prof: Campus carry would force scholars to give A grades so they don't get shot
The profs have printed T-shirts and got almost 500 signatures in one day on a Change.org petition:
They plan to be very vocal during the rule making process. Gun-Free UT plans a rally outside of the Blanton Museum on September 30th.
Read the Chronicle and KXAN-TV stories.
Like The College Fix on Facebook / Follow us on Twitter