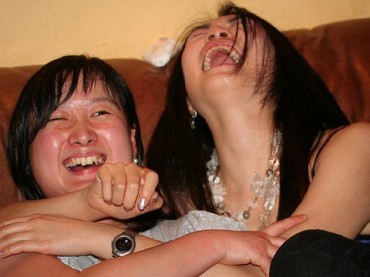 Boston's Emerson College, the alma mater of comedy kings such as Jay Leno, is now offering its students the opportunity to minor in comedy.
According to a release from the college, which says it's the only four-year school devoted "exclusively to the study of communication and performing arts," the new academic program – titled "Comedy: Writing and Performance" – will "strengthen even further the College's foothold in the entertainment industry."
In order to minor in comedy, students will have to take five credits in the areas of writing and performance. The program is interdisciplinary, meaning the classes for the minor are offered by multiple academic departments.
In addition, two of the required courses for the minor include "Writing for Television" and "The Evolution of Comedy," and students are given flexibility when they pursue additional writing and performance classes.
"There are no guarantees that someone will be funny," Martie Cook, associate chair of Emerson's visual and media arts department, told The College Fix. "But that's true of most programs in the arts."
Cook added that students can study film and television writing, but that does not mean they will go on to write Emmy- or Oscar-winning scripts.
"What we can guarantee is that students who take the minor will come out better versed in the comedic arts," Cook said.
Though some would say it takes years to be funny and question the idea that someone could study comedy, Cook disagrees.
"There are some people – and we all know them – who come by it naturally," Cook said said. "I do agree, however, that most artists develop over time."
Cook also said a student who wishes to pursue a career as a stand-up comic will undoubtedly be funnier in 10 years than he or she is right now, adding that "it's all about taking the knowledge and working hard to perfect the art."
In Emerson's release, the assistant director in the School of the Arts called the move a "no-brainer," and said the program can help students in their respective career choices, regardless of their paths of study.
"Whether on a stage, in a board room, a writers' room, or simply talking one-on-one, being empowered with the grace and confidence to artfully apply humor in your daily life gives you an invaluable edge," said Adam Greenfield, also a member of the committee that helped shape and develop the comedy minor.
College Fix reporter Andrew Desiderio is a student at The George Washington University. 
Like The College Fix on Facebook / Follow us on Twitter
IMAGE: Jeff Hall/Flickr
Like The College Fix on Facebook / Follow us on Twitter