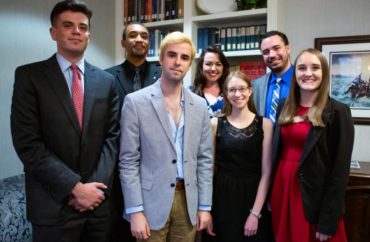 Student journalism celebrated in Washington, D.C. 
WASHINGTON, D.C. — The College Fix recently marked another year of original and investigative higher education journalism and fellowships by gathering in the nation's capital to celebrate the many talented young reporters, fellows and alumni of The Fix.
The premier event was The Fix's annual dinner, held Thursday at Hillsdale College's Allan P. Kirby, Jr. Center for Constitutional Studies.
There, nearly 70 student writers, journalism fellows, friends, alumni, donors, supporters and employees of The College Fix gathered for a night of friendship, networking and camaraderie.
The evening's keynote speaker was former College Fix editor Robby Soave discussing his new book, Panic Attack: Young Radicals in the Age of Trump. 
Soave was one of the founding editors of The Fix and has since become an associate editor at Reason. Panic Attack, published this summer, explores the increasingly radicalized and aggressive tactics of campus liberals and other young activists.
Soave also discussed his journey from his time as an editor at the Michigan Daily campus newspaper to a young graduate to Fix editor to Reason, as well as his experiences writing his book, and his opinions on the current state of campus activism and ideology.
Attendees at the event were gifted copies of Panic Attack.
Fellows meet with staff members
Another highlight of the week was a meeting between The College Fix's staff members and summer journalism fellows. This year The Fix welcomed its largest group of fellows yet, with seven talented young writers working at prominent news organizations around Washington.
The Fix's staff — comprised of veteran journalists and writers — were able to converse with the fellows about the craft of journalism, offering advice and instruction on how to navigate the modern media landscape and excel at their internships.
The week also offered the opportunity for College Fix staff members to gather in person for meetings and other functions. The Fix is a virtual office, with staff members in multiple states and on both coasts. Meeting in D.C. affords the staff the chance to catch up, develop new plans and projects for The Fix, and enjoy each other's company.
IMAGES: Brendan Miller / For The College Fix
MORE: The College Fix's largest group ever of summer fellows
MORE: College Fix journalism fellows take Washington D.C. by storm
Like The College Fix on Facebook / Follow us on Twitter