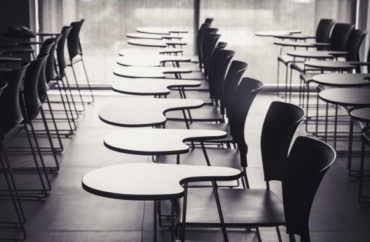 When people ask me if the higher education bubble is bursting, I say no, it's deflating.
Let me explain.
About 10 years ago, the talk was that the higher education bubble would burst because of the onset of the MOOC, or Massive Open Online Courses. That didn't pan out.
Partly because of what people now openly admit — at least intellectually honest people — and that is you are not paying for the degree, you are paying for the four-year college experience.
The cost of the college experience continues to soar beyond the rate of inflation or the return on investment, but far too many people are willing to pay it because it's basically a rite of passage in America.
Add that with the Sports Industrial Complex, and it's a structure too strong to completely fall apart. And no one is saying it should, entirely.
But the kindergarten-through-college mantra, the one beaten into students' and parents' heads that the only successful pathway in life is enrolling in a four-year college right out of high school, is absolutely crumbling.
I liken the higher ed bubble to a balloon that's deflating, the air is slowly leaking out. Universities have lost a lot of swagger and sway.
There are many reasons for that: heck, Mike Rowe is a one-man army when it comes to raising awareness of the value and benefit of blue collar jobs, for example.
Tech, coding and other IT pathways are blazing new and unlimited trails of opportunity.
The COVID crisis also allowed us to realize online education is feasible, cheaper and easier — so why pay full price?
This country has experienced a tipping point in which far more Americans are aware of higher education's problems than ever before.
Axios, for example, had a piece headlined "Higher education's sea change" on Dec. 11.
As enrollment trends downward, bigtime, the number of colleges that close down continues to grow, and colleges "are responding to dropping enrollment by introducing hybrid and online learning options. And universities are trying to lower hurdles to admission during the pandemic by scrapping standardized testing requirements."
What the mainstream media won't admit is that higher education's overwhelming embrace of critical race theory and diversity, equity and inclusion has been an utter disaster for public relations; fewer people are willing to put up with it, let alone pay for it.
All this adds up to a paradigm shift in America on higher education. We're here for it.
MORE: The alternative to college cancel culture is forgiveness
IMAGE: VVT Studio / Shutterstock
Like The College Fix on Facebook / Follow us on Twitter