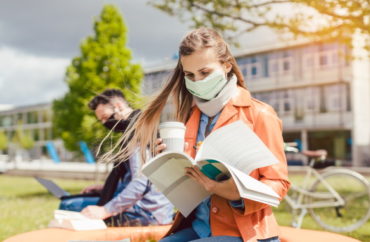 LAS VEGAS — The mandate is lifted, but many masks are still on. I'm not surprised.
Adherence to COVID restrictions has become the litmus test for social acceptance, a source of meaning and morality. For isolated individuals, they provide the illusion of being part of a group—part of protecting people and being a good citizen.
We're talking about the generation with hundreds of followers, but no friends. The generation that loves to talk about rallying together, but cancels those who disagree. The generation that would rather text than call to avoid difficult interactions.
When the mandate was lifted in my state of Nevada, over 2,000 students and staff signed a petition to reinstate the mandate. Dozens gathered for a protest at the University of Nevada, Reno.
Something similar happened in New York City, where college-aged protesters were recorded March 2 gathering to sing "mandate masks" to the tune of "Old McDonald had a Farm."
Footage from a pro-mask protest today in NYC. Liberalism is truly a mental disorder pic.twitter.com/wWB31Jq9UX

— Libs of Tik Tok (@libsoftiktok) March 3, 2022
To state the obvious, lifting mandates does not prevent individuals from continuing to mask up.
In class, sometimes I am the only student not wearing a mask. I notice many of my peers keep them on when walking across campus alone, outside.
Complying for the sake of attending class was understandable, but why now? To be fair, some are truly afraid of catching COVID, despite their low risk, or of transmitting it to a family member.
But there is also something deeper going on.
Many of these students remain passionately committed to the cause, even though the scientific case has now been debunked many times over, including by a CNN medical analyst and the CDC's own changing recommendations.
The mask is a badge of honor, a sign that denotes: "I care."
Masks were sold as a way to protect one another. Make the sacrifice and mask up for the greater good. The "in it together" messaging made us feel like part of the same mission. Failing to conform sets you immediately outside the bounds of human decency.
What's more, you can hide a lot behind a mask, and some students like that.
As one student wrote for the SUNY New Paltz student paper, "Suffice to say I've been very grateful for the mask helping me provide a barrier between my innermost thoughts and the rest of the world. This mask has been giving me the privacy I deserve."
A Washington Post writer quotes her 14-year old son, who says he will continue wearing the mask after the pandemic because "it's liberating."
"I want to keep wearing a mask after this is over," he is quoted as saying. "I can just go and do my thing, and I don't have to interact with people."
There are psychological aspects as well. Some have reported being too self-conscious to take off their mask at school. There is a sense of peer pressure.
Before COVID, face coverings were already popular among students in countries like Japan. A 2012 article in Japan Today quotes high school student's reasons for wearing them.
"I don't want to show others my true self," "Since my face is covered, people don't know how I'm really feeling. It's comforting," and "I don't like having to create facial expressions for people" are some of the reasons given by Japanese high school students who mask up regardless of the season.
Not everyone feels this way.
I know students of all political stripes who could not be more thrilled to breathe easy and smile freely. Still, a significant subset is simply unwilling to give up what they have gained by masking. Which, though perhaps contradictory, is both anonymity and an artificial sense of community.
MORE: Professor worries campus mask-optional policy will give people 'more freedom'
IMAGE: KZenon / Shutterstock
Like The College Fix on Facebook / Follow us on Twitter